BMW CSL Hommage testing on the Nordschleife
[ad_1]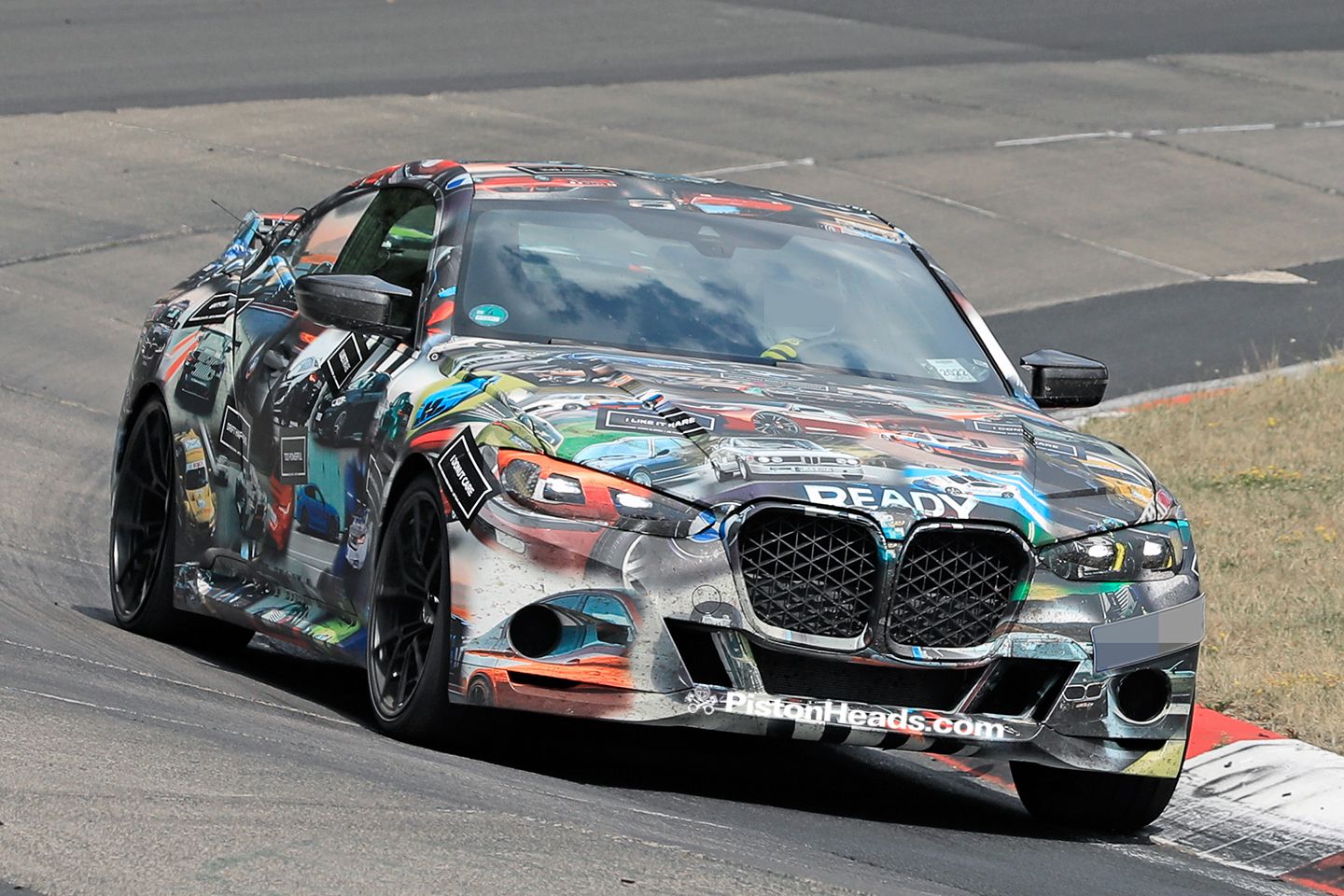 Though it's easy to be cynical about the BMW CSL Hommage (because nothing based on the current M4 will be made credibly lightweight, it'll cost lots more than the £130k CSL, and you probably can't get one) there is plenty to be encouraged by as well. It's a manual, straight-six, rear-drive BMW, after all, one with some cool spoilers and what we hope are vaguely acceptable kidney grilles – and there have been plenty of excellent Beemers like that over the years. And we're not guaranteed many (if any) more, so count us among those eagerly awaiting the arrival of the Hommage.  
To all intents and purposes, the car caught testing is the one BMW M boss Franciscus van Meel was posing with a few weeks back. But out of his garage and onto the Nordschleife gives a better idea of exactly what BMW is lining up. There's certainly no doubting it's a big old beast, taking up a fair chunk of the North Loop and looking for all the world perhaps even larger than an M4. But maybe that's the funky wrap. 
Up front it's got a couple of additional intakes that evoke the old M3 CSL's single front bumper cut out – and if the induction howl from this car is anything like that one we're all in for a treat. Though the big M3 kidney grilles are gone, the vents below suggest there's plenty of cooling to be done. We know the S58 3.0-litre can go to 550hp in the CSL, but BMW says a six-speed manual couldn't handle any extra muscle. It's officially why those markets that are offered a six-speed manual M3/M4 can only have it in non-Competition guise.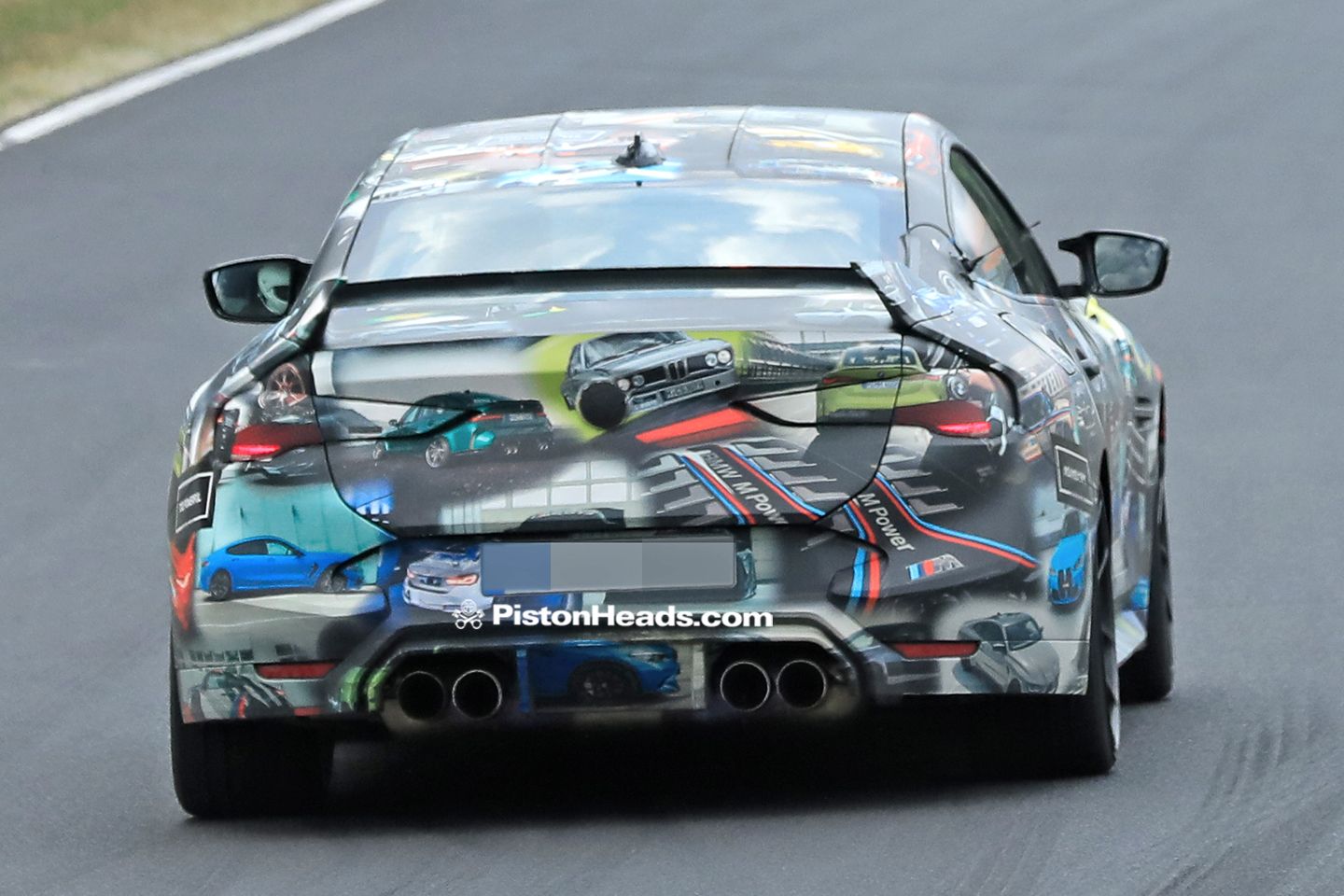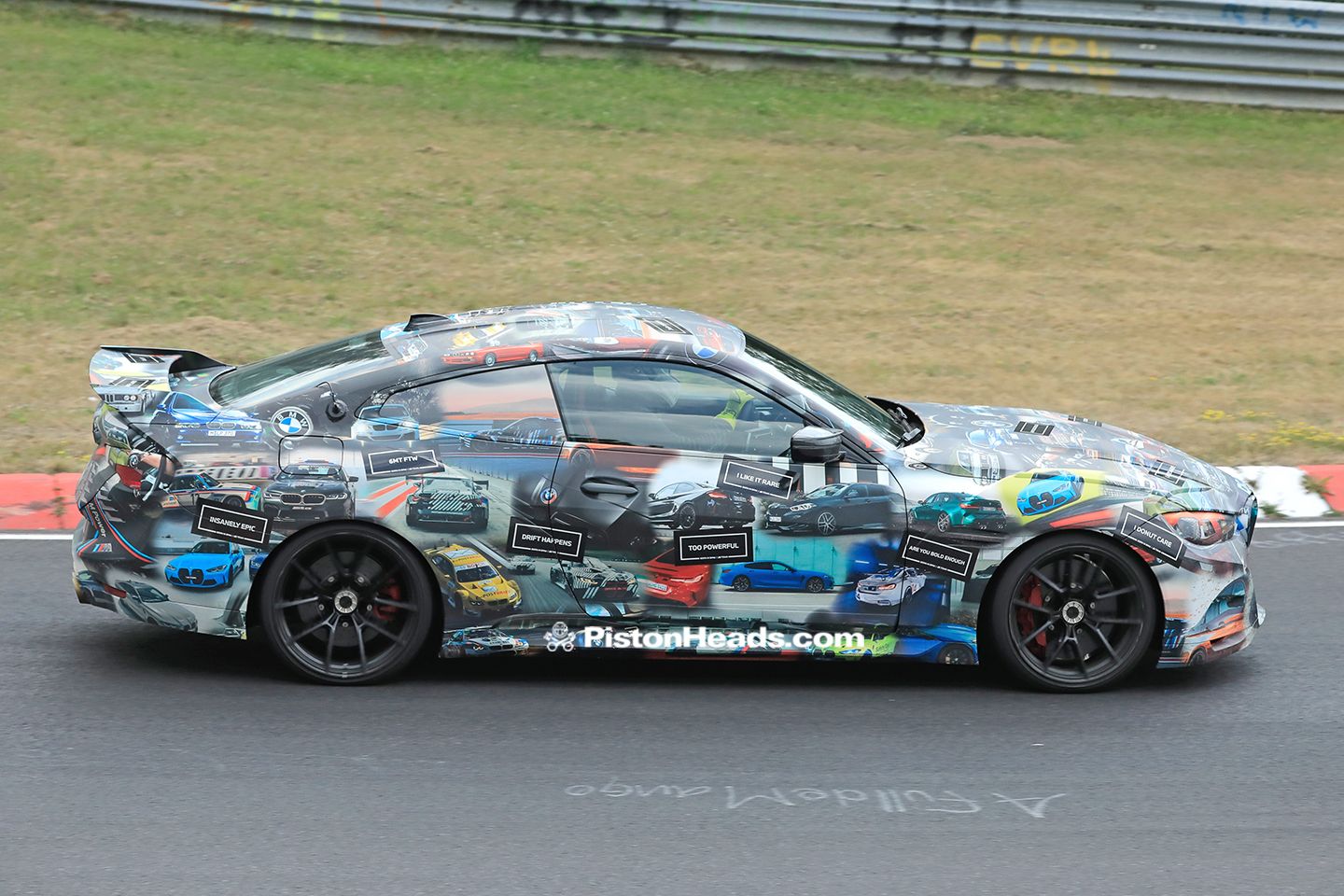 You'll remember the original mule had '6MT FTW' emblazoned on its rump, which is where all the manual rumours started from. Look closely, however, and you'll see this one goes without that sticker, replaced instead on the boot by an image of a Batmobile. And the second spoiler is missing from the roof. Maybe an auto CSL will happen again, like the M3… except look even closer and you'll see '6MT FTW' has been moved to the side. Phew. But this is definitely a (slightly) different rear end. Perhaps some different materials are being tested, or there's something in the boot (remember the old M4 GTS water injection) or, er, this is just a different wrap. Suggestions welcome. 
Notable here as well are giant wheels, perhaps as big as the 20/21-inch staggered setup available on the Touring (19/20-inch is the standard Comp arrangement). There look to be some appropriately burly brakes behind them, too. In fact, these rims look a lot like the M Performance forged ones announced for the Touring yesterday. And even if not, they've got some proper M car dish to them – which is good.  
For now, there are no more concrete details, BMW presumably happy with an excited M car community guessing at what this Hommage could be and with plenty of other new metal to concern itself with in the meantime. But there won't be long to wait, given this is a 50th anniversary car and we're almost eight months through that golden year. Gotta be something special, though, given we've already had one BMW CSL in 2022. Expectations remain high… 
Image credit | S.Baldauf/S.B.Medien
[ad_2]

Source link