[ad_1]

CTMP DDT Track Day #1
Want to plug my instagram real quick, more photos and videos there too, @bkd705
First track day of the year with the new setup, woo!
This is my first time really experiencing the car in the full setup, so up until now I've only had brief backroad experience with the seat, suspension, brakes, wheels/tires, etc.
A quick update on how the car is set at the moment

Camber -3.3F -2.2R

MCS 2WR (800lb F, 700lb R)

AP 9660 w/ Endless MS35 & Motul RF600

18×9.5 Apex EC7 w/ Hankook RS4 275 Square

Sparco QRT-R

M235ir Wing

Assorted supporting / aesthetic mods (SPL endlinks, RKP lip, etc)
Was a blast, this is only my second time at this track and my first was cut short, so I went into it starting real slow. For reference, a fast time for a track setup M2 Comp on 200tw tires (or cheater tires) at this track is roughly in the 1:35 area.
I started the day off running 1:40-1:42 area, really just relearning the lines and the car. The car is completely different from the last time I was here. The suspension, brakes, etc make the car a completely different thing to drive, I had to learn different lines (could be more aggressive with curbs), different braking points, how to modulate the pedal, how far I could brake before hitting ABS, etc etc etc. After the third or fourth session (20 mins each) I was getting comfortable pushing the car more and more and was able to shave off half a second or a second each lap until I finally got down to running 1:37s consistently. Ended the day with a personal best of 1:37.5. I'd like to target a 1:36 but on RS4s and only my second time here, as well as not doing any suspension setup past a baseline track setting, I'm happy. I definitely know where to improve (mainly carrying more entry speed, using slip and better brake modulation), and am excited for the next time back.
I'll give some individual feedback on specific mods below in case anyone is interested.
Sparco QRT-R

The seat makes a huge difference on the track. Taking passengers out and seeing them flail around in the OEM seat vs me being stuck is painfully obvious (literally, it looked painful). This is a huge confidence booster on track and allows you to focus a lot more on the driving. This would be a top 3 mod for me if I was rebuilding the car. As for the Sparco specifically, it was comfortable all day, however it is a bit wide for me and gave me some room to slide around, and led to my thighs being a bit iffy by the end of the day.
MCS 2WR

These feel amazing on track, they keep the car so flat in the corners, so composed over bumps and I left it in the baseline track setting all day with no adjustments. I think there is a few areas I can improve the setup, my friend noted the car felt a bit floaty, the bigger curbs did upset the car a bit (see video below) where my friend's on dialed Nitrons/Ohlins/etc were able to run over them. But overall these felt amazing, and knowing I can adjust and tweak to really fix the issues gives me a lot of confidence that these were the right choice to run. I am going to try to contact MCS/Bimmerworld directly to ask for some assistance on the adjustments and will report back!
AP Brakes / Endless MS35

These were the biggest difference in my opinion. It takes around a lap for the brakes to warm up, but once they do the bite is incredibly hard, right at the top of the pedal. This gives confidence braking late, but the modulation is tough since you have so little pedal movement, they feel very off and on. This was the hardest part to learn as from OEM habits I kept hitting ABS which put me into corners late. Once I learned how to do this properly though, the car felt insane. For the entire day running around 6 20 minute sessions, the brake feel never changed once. Lap after lap after lap of pushing hot laps for 20 minutes and I never experience a difference in feel. It would bite at the same spot, brake just as hard and consistent. I am only running the MS35s in the front, with OEM rears due to stock issues. This shifts the brake balance forward heavily which did hurt the braking performance a bit, but was relatively easy to drive around, looking forward to when I have balanced braking and get to go again. With all that said, 100% worth the upgrade if you track often.
Hankook RS4 275 Square

These tires honestly felt great on track. I know they're not the fastest but from some feedback from friends and my own experience, I think they're a really great tire the learn on. The slip came progressively, they're predictable, and just like the brakes they lasted hot lap after hot lap for 20 minute sessions without changing the feel or grip. I'm super excited to run these more and to see how long they last.
Photo Time!!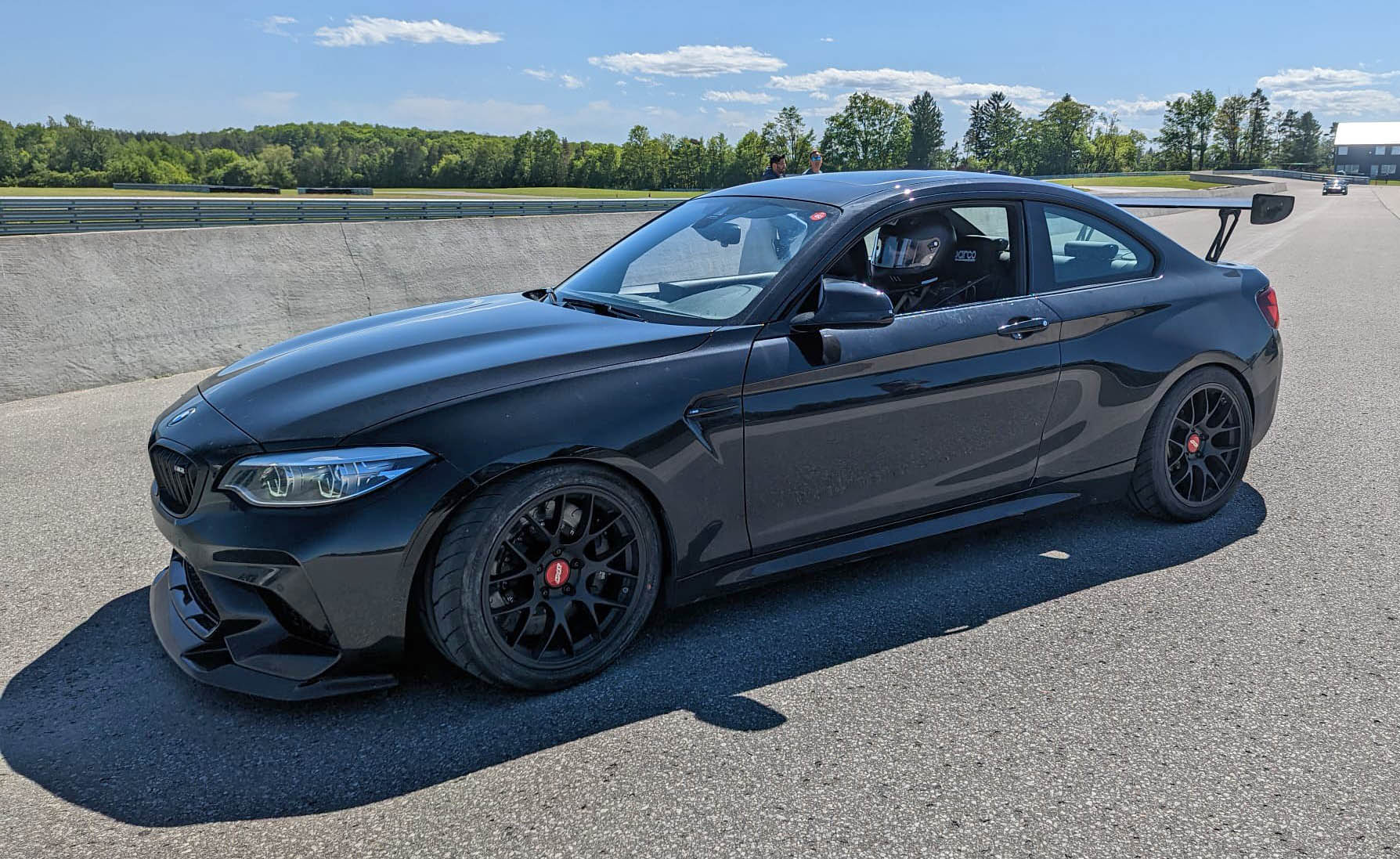 Here is a short clip of me bombing over a curb. Maybe should take this one less aggressive but was fun to try out different lines and see how the car handled.
---


Last edited by bkd705; 06-07-2022 at

01:51 PM

..





[ad_2]

Source link