2023 BMW XM prototype | PH Review
[ad_1]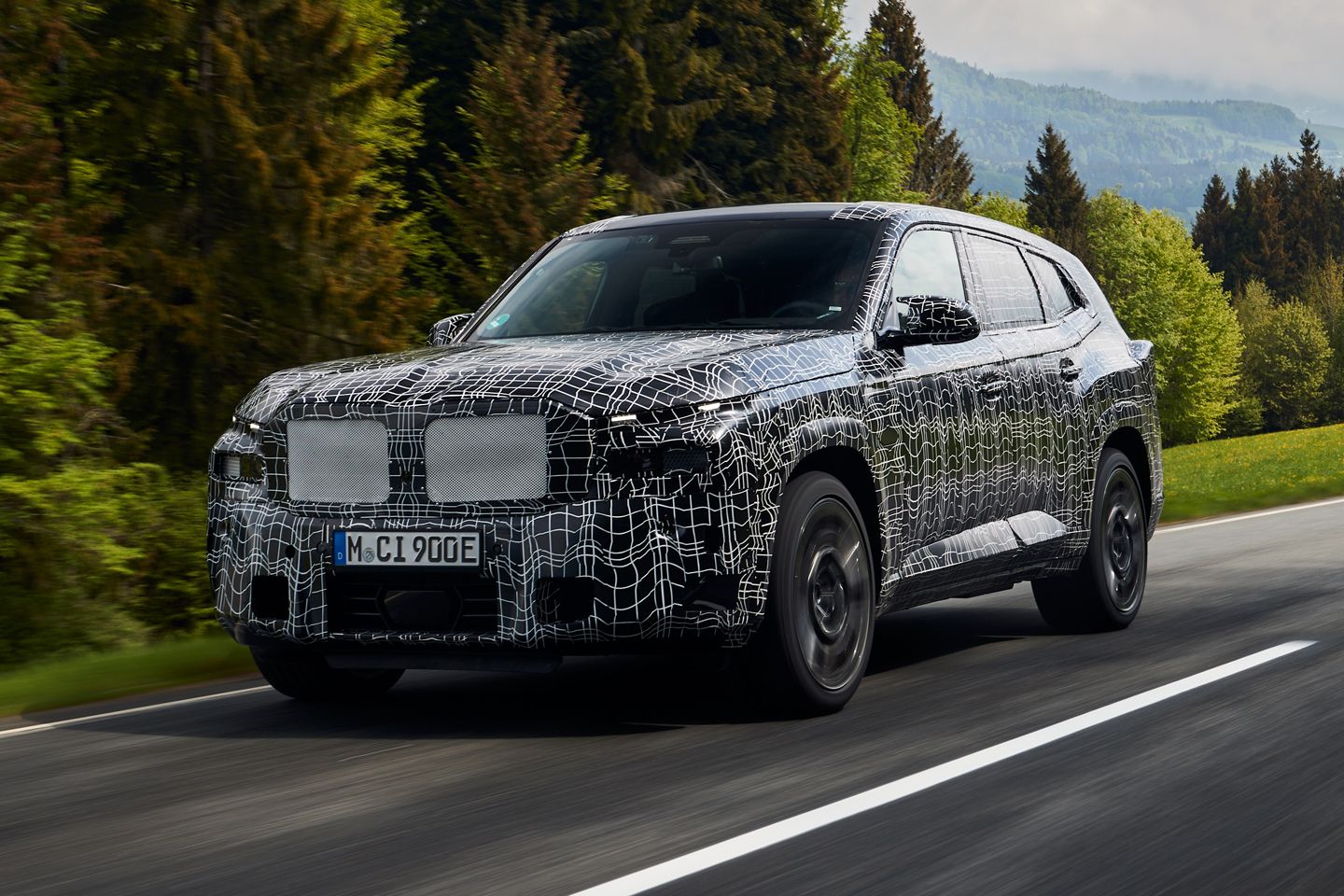 No, it's not an avant-garde Citroën from the 90s, it's a big and brutish SUV. And a point that's being emphasised about the new Citroën – sorry, BMW XM – is it's the most 'proper' M car since the M1. Why is this, you might wonder? It doesn't look like your typical M car design, does it? Well, the X won't come with any letters attached other than M. Unlike the M2, M3, M4, M5, M8 etc., which all have cheaper and weedier BMW variants, this XM is just an M car, that's it. Rather like Highlander, there can be only one. So that makes it the first truly bespoke M car since the M1.
The engine will be in other BMWs, though. Unlike the standard rule, which says that M engines go only in a full-fat M cars, the new S68 will find its way into lesser models – if you can count the X7 M60i, which will be its first outing, and forthcoming 7 Series as 'lesser' models. It'll be in detuned format in the non-M stuff, though, rather than the 650hp and 590lb ft package delivered by the XM on its planned launch in March next year. That's not the S68's zenith, though. There will be an even mightier version at some point with 750hp and the 738lb ft of torque. That's the round 1,000nm that was advertised when the Concept XM car was first shown.
The S68 is conceptually similar to the S63, in that it's a hot-vee, 90-degree, twin-turbo V8, and shares the long-standing BMW default litreage of 4.4. My understanding is the block, while heavily altered, is conceptually similar to the old S63, which was going to be a struggle to get through the new Euro 7 emission regulations. Internally the S68 is all new: new cylinder heads, crank, pistons, cams etc. And it's moved to an electrically operated VANOS for the first time, rather than relying on oil pressure for its valve timing tweaks.
In another first, not all the horsepower is made by the good-old suck, squeeze, bang and blow method. Yep, this is the first M car to be electrified, and if that sends shivers down your spine be thankful it means only a plug-in hybrid, for now. Sven Ritter (Project Lead for BMW XM) explained that the customer base isn't ready for a fully electric M car just yet. I suspect most PHers aren't, either, and may never be for that matter. He wouldn't tell me what the output split between the engine and the electric motor is (this is a pre-prod that hasn't been homologated yet) but said that the EV element is two or even three times more powerful than BMW's existing hybrids, like the X5 45e.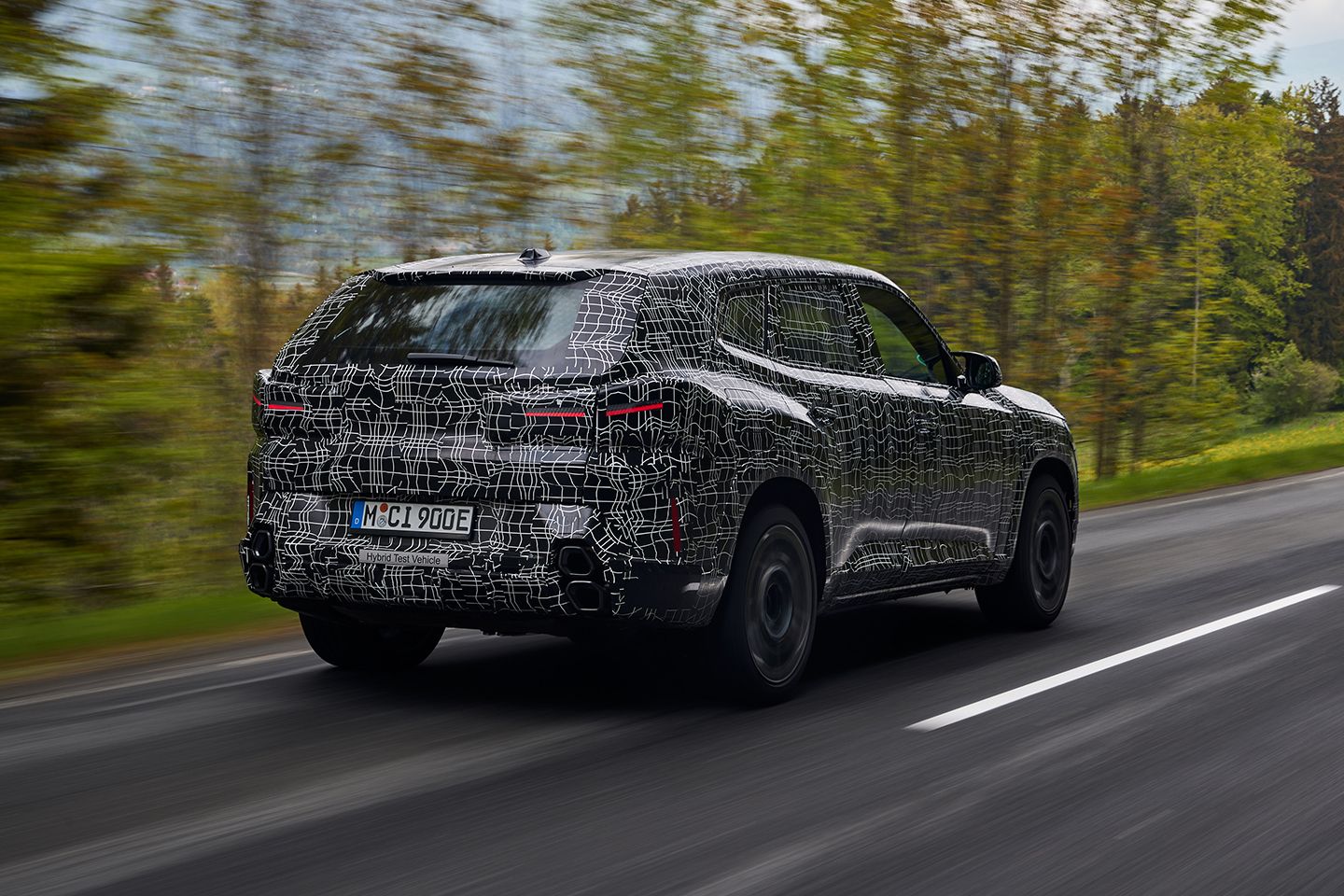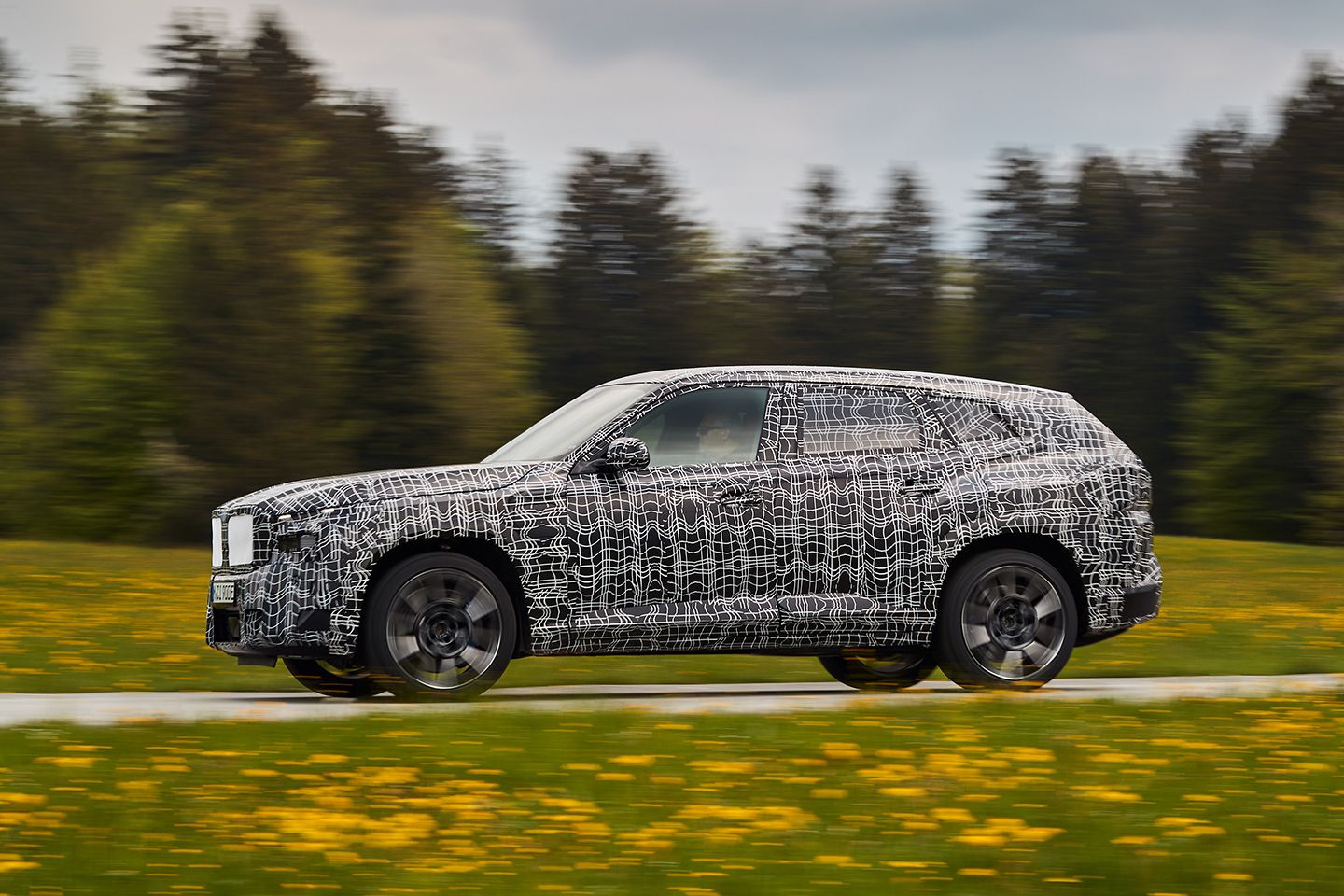 This is because it's BMW's Generation 5 hybrid tech, which includes a new, larger-capacity battery. Again, Ritter wouldn't tell me the exact capacity (there was a lot of "I can't answer that right now") and was sadly sharp enough to swerve my dastardliness when I slipped into the conversation "So how long does it take to charge from 0-100 per cent?" after he'd just told me the Generation 5 hardware can charge at up to 7.4kW. Oh well, I tried. The only thing Sven was happy to confirm is that the WLTP range will be 50 miles, and with a bit more pressing, that the new battery capacity is the result of improved cell packaging and management rather than any physical increase in its size.
The motor, which also acts as a starter-generator, is a ring sandwiched in between the engine and gearbox. And speaking of the gearbox, this is also a new eight-speed ZF unit. Neither the casing nor the internals of what was already available on the shelf was going to handle the huge torque potential that this power unit can produce. It's still a planetary-geared auto but instead of a torque converter there's a clutch pack to get you going. The rear e-diff and the drive shafts are also bespoke, to meet the torque rating, but the centre diff is basically taken from the X5 M.
There isn't a torque split a such. It's fully variable between the electronically locking rear differential and the open one at the front, so up to 100 per cent can be sent to either depending on need. However, there are some defaults: for example, in 4WD Sport mode, more drive is sent rearwards by default and above 111mph (180kph) the front axle is disconnected to improve efficiency – in the belief that, even with this much wallop, traction shouldn't be an issue by then.
The basic chassis architecture is CLAR, but without any carbon fibre in its core; just a mix of aluminium and high-strength steel. It is best thought of as an amalgam of X5 and X7 elements. The hybrid-battery packaging is derived from the X5 PHEVs – that is, the battery sitting where the fuel tank would normally be, under the rear seats, with the fuel tank occupying a slot roughly between the rear-seat back rest and the rear crash structure. The fuel tank on these BMW PHEVs is long and thin (from what I gather, a depth of about 25cm) and positioned just beneath the boot floor, so there's no under-floor storage. For cable storage, you get a bespoke holdall – rather than a cheap nylon affair, it's the kind of overnight bag you'd see in the window of a West End luxury boutique.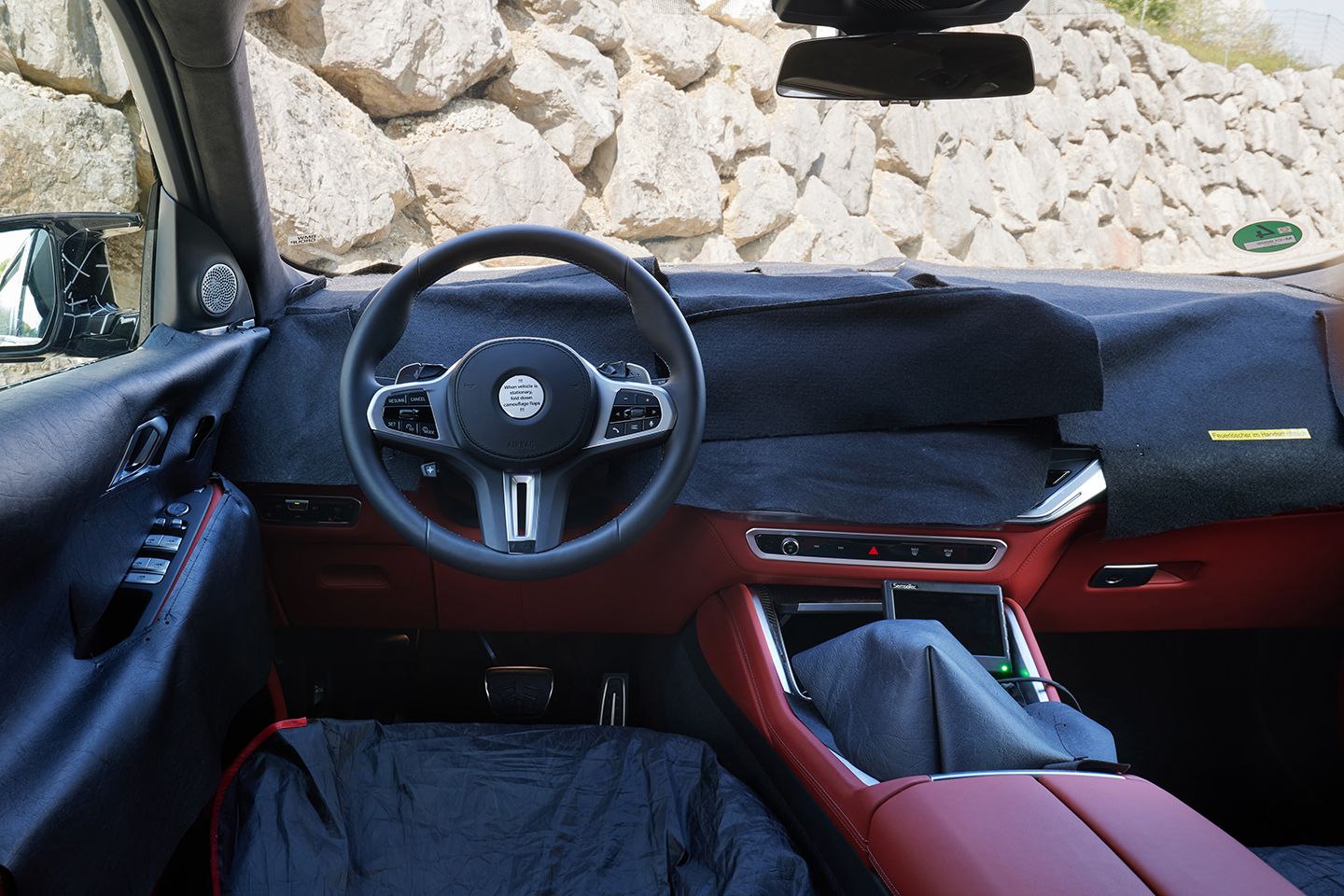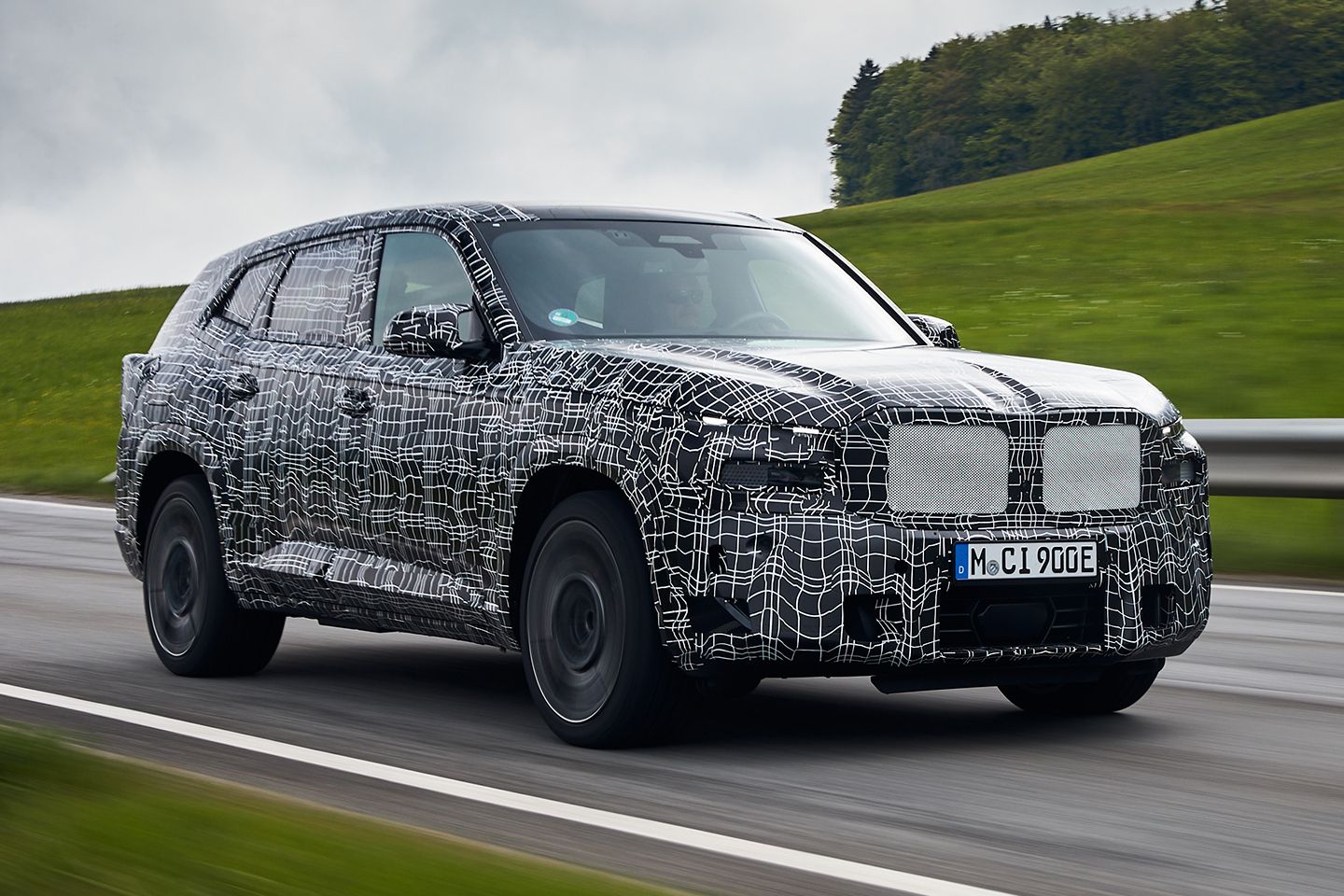 The body is all aluminium, and while this prototype XM was wrapped in the usual camouflage, it's fairly clear that the underlying design follows the principles of the Concept XM that we've seen already. If you haven't had that pleasure, then imagine a big SUV created from angles and flat, anti-radar surfaces. Or another way to think of it is Kryten's head – as in Red Dwarf – on wheels.
So who is the XM aimed at? Well, a section of the market that BMW feels currently it is missing out on: anyone who's got – or is contemplating buying – an Aston Martin DBX, Audi RS Q8, Lamborghini Urus or Porsche Cayenne GT Turbo. The really fast stuff, in other words. There's talk of two zones inside the XM – sporty and luxury. Up front it's the sporty zone: driver focused and laden with the usual M bits, like M mode buttons on the steering wheel, an M gear lever and heavily bolstered (and very comfortable) seats. It also has the latest iDrive 8.0 software and twin-screens, sitting side-by-side, with the farthest one curved towards the driver. Thankfully, there's still an old-fashioned iDrive controller lurking on the centre console to help you use it. As most of the dashboard was hidden by fabric, I cannot comment on what it was like underneath. From what I could see poking out it looked more X7 than Concept XM, but that could be a bluff.
The rear is what's described as the luxury or comfort zone. The rear bench is flatter and plumper-looking and not bolstered like the front seats. There are pillows on the headrests and the backrest flows into to the C-pillars, in the wrap-around manner of a Rolls-Royce. It's so geared toward limo travel in the back, that the privacy glass is 20 per cent darker than any other BMW's, so presumably there's less chance of being papped. Nevertheless, the luxury doesn't extend to individual rear seats, electric seats or footrests, and it's nothing like as opulent as the latest Range Rover.
It's still very roomy, though. The wheelbase is similar to an X7's but the legroom is said to be slightly increased – I'm pretty long and sitting behind my driving position I had a good 16cm of space between my knees and the driver's seatback. And even though the sloping roofline swallows a big chunk of headroom, compared with the X7, there's more than enough left. I'd say it's roomier all round than any of it's sportier rivals.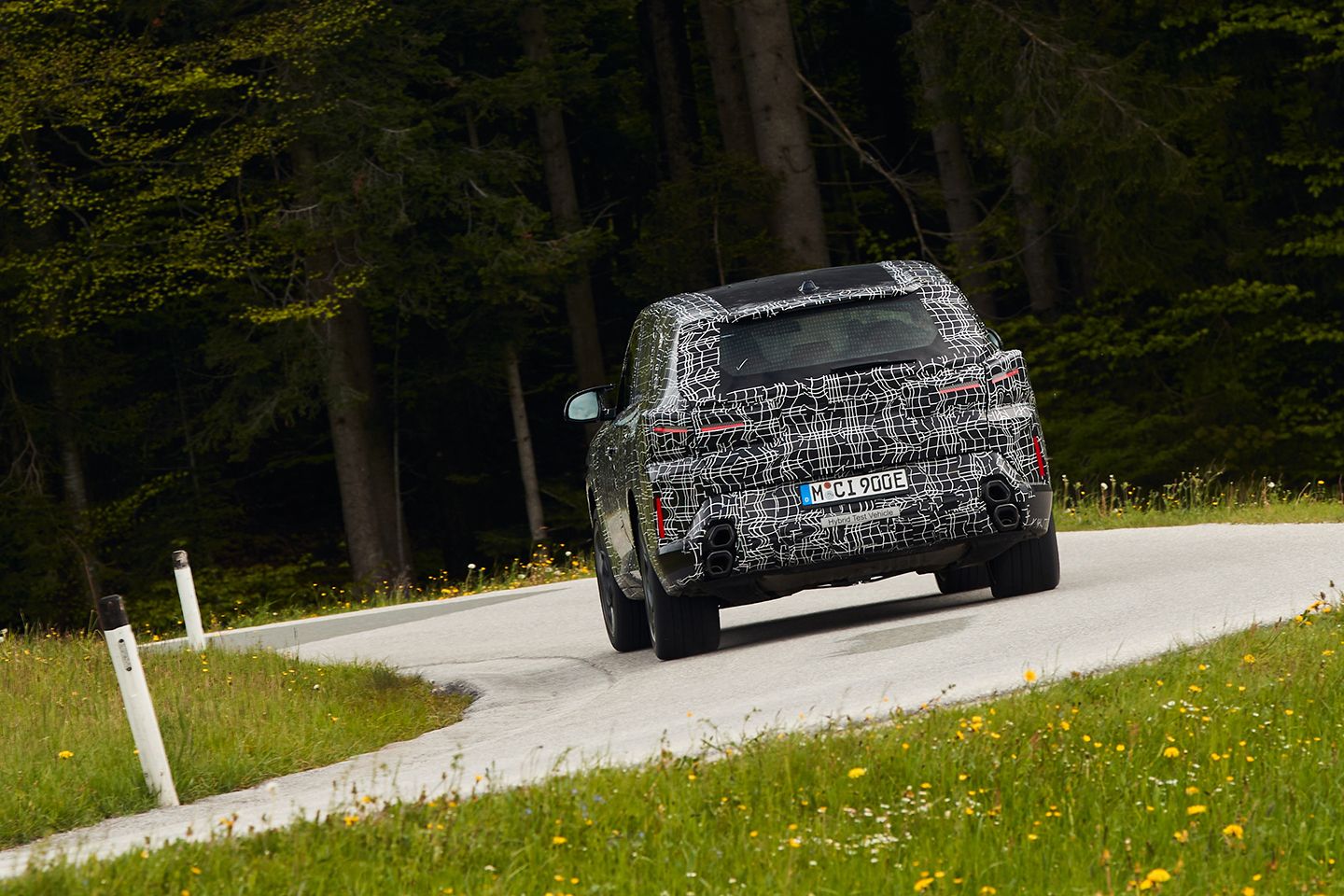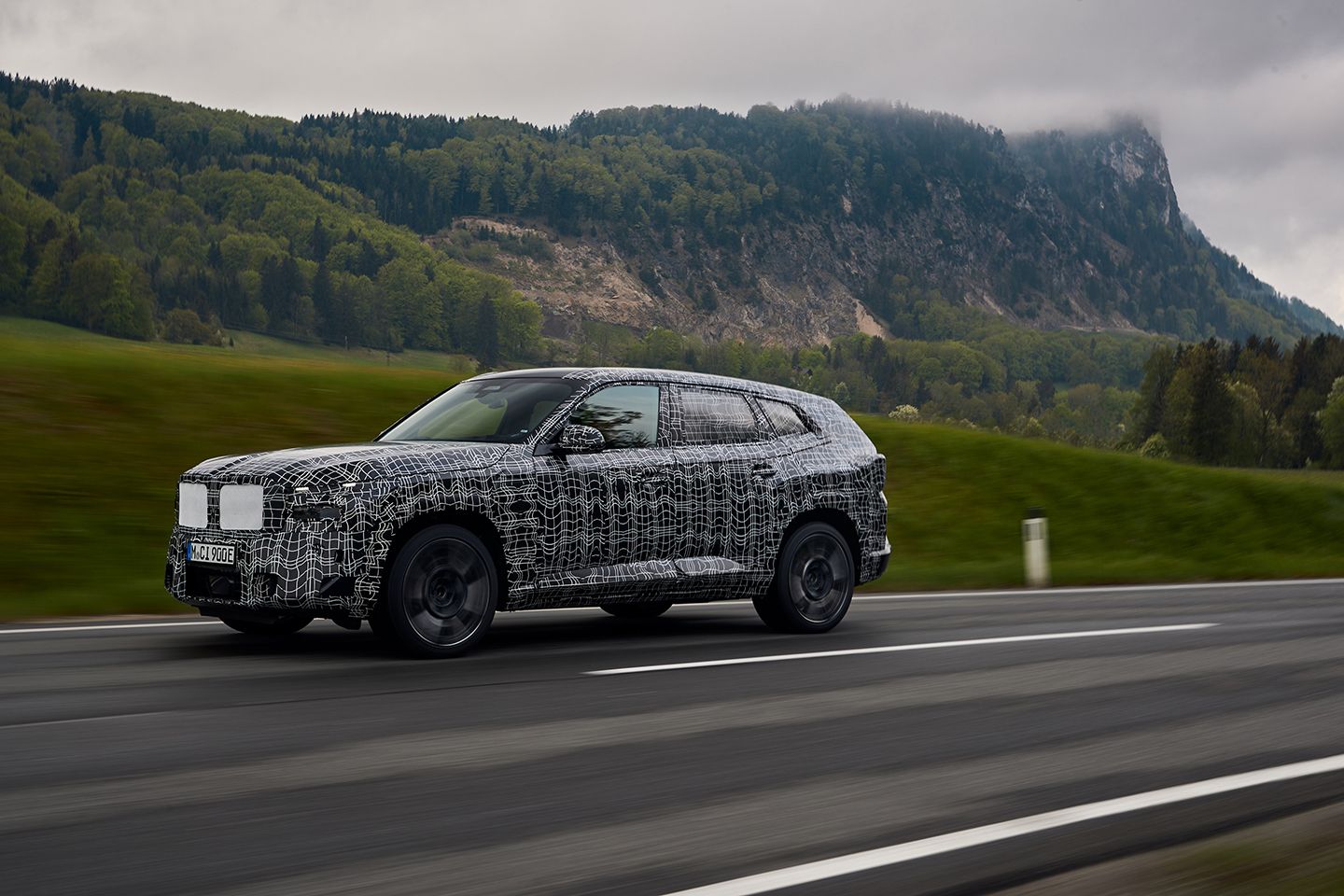 My drive was with Ritter in the passenger seat – to answer my many questions but also to make sure I wasn't fiddling with things I shouldn't be. We were also following a lead car through the, at times, breath-taking scenery surrounding Salzburg. Therefore, it was hardly a full-on road test but, even so, it was clear to me that the XM is very M. Take the ride, for a start. Unlike most – if not all the competition, come to think of it – the XM eschews air springs in favour of steel coils and adaptive dampers. Apparently, they wouldn't be able to achieve the Nürburgring lap times with an air-sprung set-up. And in case you're wondering what those lap times are, I don't know. While the hardware has been signed off the settings and software tweaks that'll extract those final few tenths of a second are still being worked out.
Anyway, the XM feels firm, even in its Comfort setting, although for a car of this size, height and weight, the fact that it rides as well as it does on regular springs impressed me no end. There's enough elasticity that it's not jarring but there's no denying that you feel a soft punch from potholes and expansion joints that, I'm sure, would be filtered out by a DBX707. And it's more fidgety, rather like the Porsche Cayenne GT or Lamborghini Urus. The good news is that the bandwidth between Comfort and Sport+ isn't massive or stupid, so ramping the suspension up to its most attacking mode is more about attacking body roll than your spine.
On that point, the XM comes with 48-volt active anti-roll bars as standard. These have 811lb ft at their disposal to prop up the body through turns and do a fine job of keeping the effects of the lateral forces at bay. The XM maintains a flattish stance even on the few occasions when I was free to push it in bends. And this would be accompanied by Ritter saying "see, #noundersteer," which was apparently the brief from the start. A brief that seems to have been met, because the XM feels every bit as balanced as its 50:50 weight distribution would suggest. And agile, too, with rear-wheel steering – another standard bit of kit, I am told – adding the zip to get this big car turning in excitedly. But it's not too pronounced – its maximum angle is just 2.5 degrees max, which makes the response feel more natural than the Cayenne GT equivalent system. 
That said, for me the XM's steering still needs work. It's missing the locked-in sense of connection that you get in the Porsche off centre – it's like there's some play in the XM's rack for the first few degrees. This is most notable at slower speeds, but that still matters. When you're squeezing an enormous car like this through narrow streets – especially because the peripheral visibility is so poor thanks of the large A-pillars and high scuttle – you need all the accuracy you can get from the wheel to avoid smearing alloys on kerbs.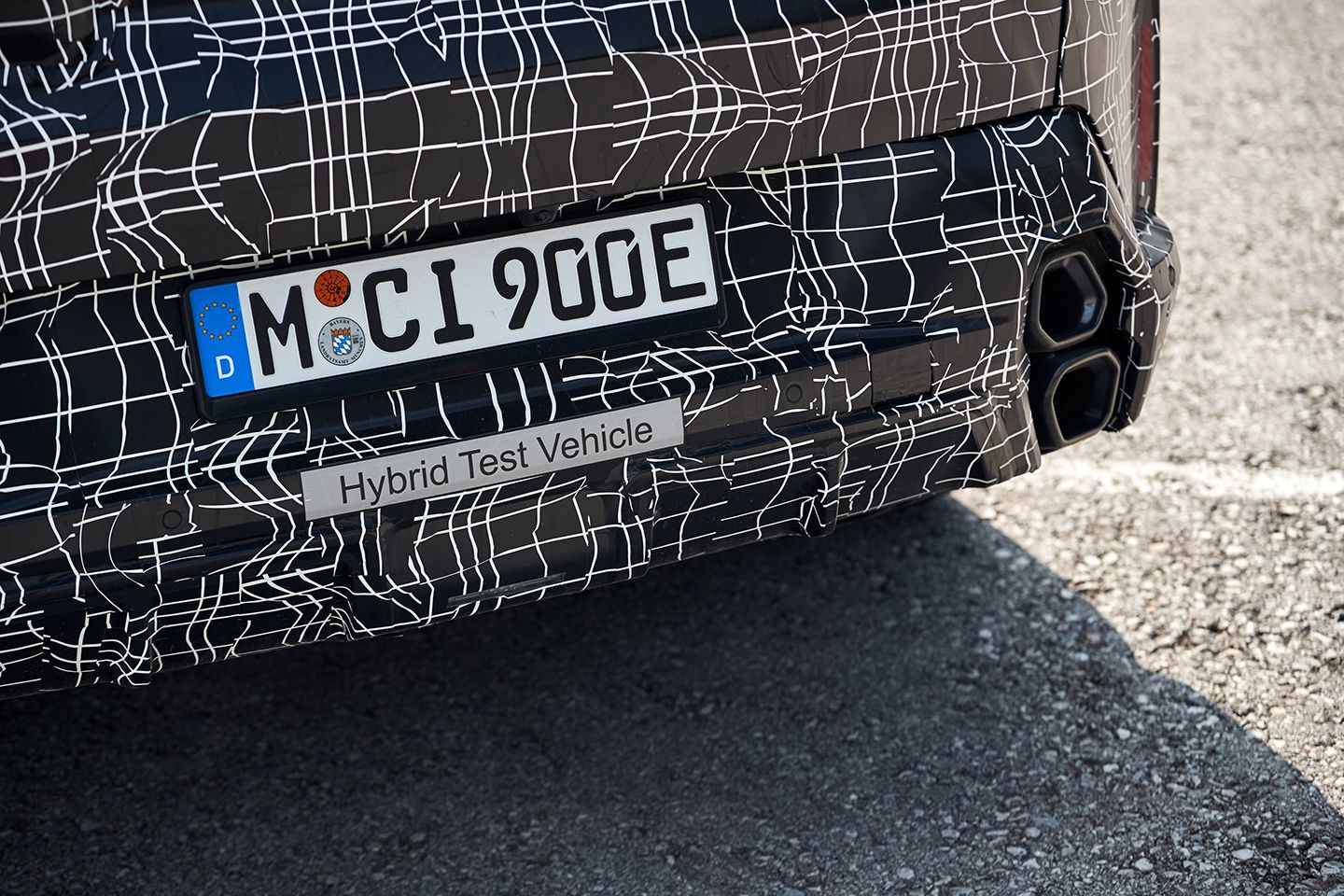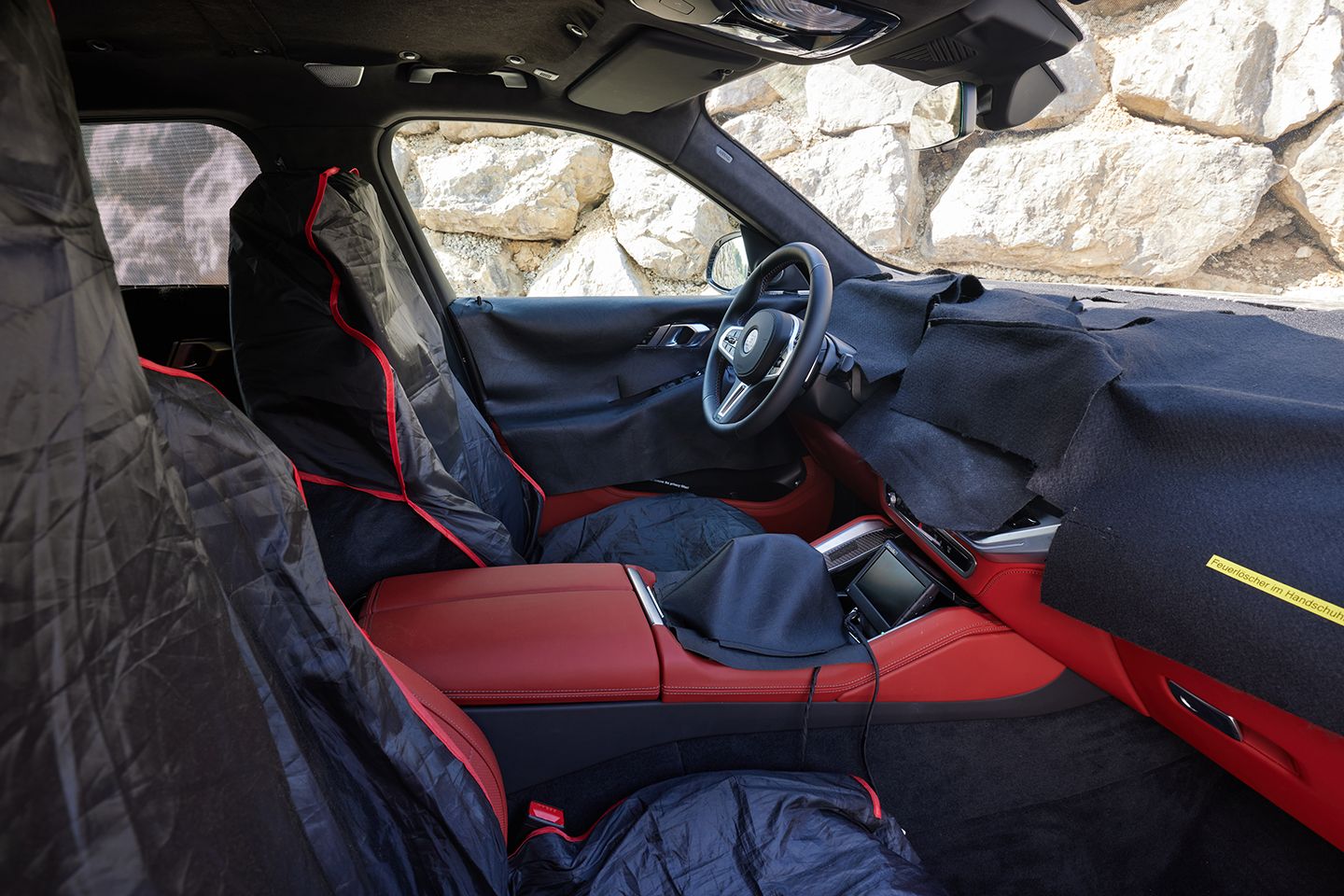 The faster you go the more this sensation subsides, but there were still times I was thinking about the steering, which is usually the sign that something is up. Cycling through the modes doesn't help, either. Yes, Sport offers more weight from the off but the ramp up in resistance is severe – driving along at a sensible pace and adding a quarter of a turn, the steering becomes heavy and that's completely at odds with the actual cornering forces at play. Jens Leopoldsberger, who's the man responsible for the XM's driving dynamics, said they were still fiddling with it and I should reserve judgement until I've tried the production car. And I will, but right now I'd say the DBX707 steers far more sweetly.
The brakes are being tweaked as well. For a hybrid, they're actually pretty good. The pedal feels firm and progressive when you're hitting it with a medium to hard hoof and the stopping power is assured, too. The feel drops away when you're feathering the brakes – approaching a junction at a leisurely pace, that sort of thing – and even if you bleed away the pedal pressure carefully it's hard to stop the XM without a little jolt as it finally comes to a halt.
I was told there were issues with the sealing of these pre-prod cars as well: there might be excessive wind noise, that sort of thing. To be fair, I didn't really notice anything alarming. Of course, that may have something to do with the fact that Ritter and I were always engaged in discussions about the car, or because we never went on a motorway.
Still, it's very quiet in EV-only mode, assuming you've switched off the Hans Zimmer soundtrack that the XM plays in the background as you accelerate. And the performance feels strong as you do – there's plenty of poke to crack 50mph or so. Obviously, it's nothing compared with the way it thunders along when the V8 joins the fray – with the odd jolt as it happens, which is something else that's being worked on. The combined performance wants for nothing. It is strong and consistent, too, with all the off-boost torque holes plugged seamlessly by the electric motor. And as accomplished as Hans Zimmer is, for me the V8 composes a better soundtrack than he does. It's a charming off-beat woofle with enough of a motorsport edge to rouse your spirits. For those that want their spirits raised higher there's a switchable sports exhaust, but you need to be cool with it sounding synthetic – and too bombastic for me.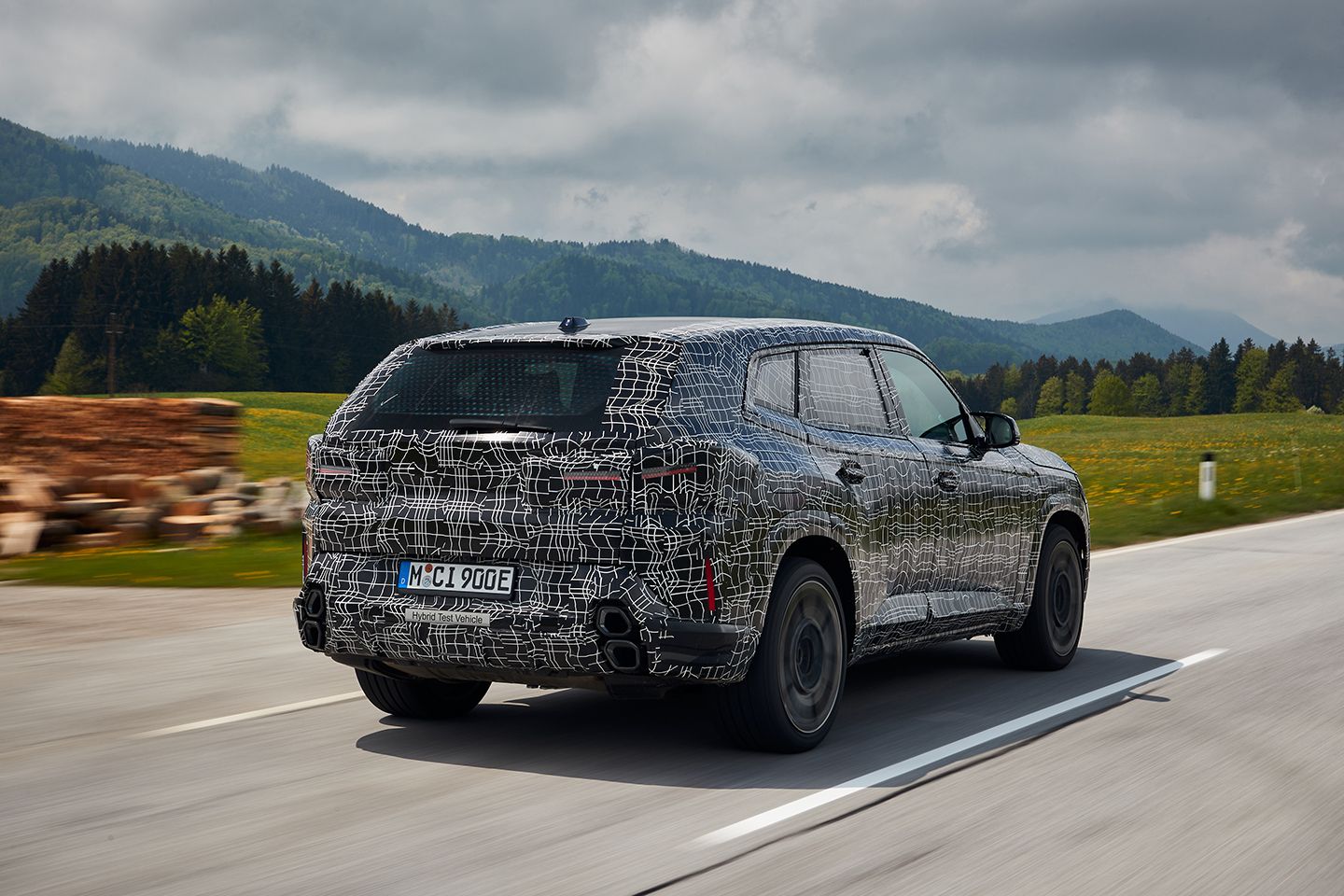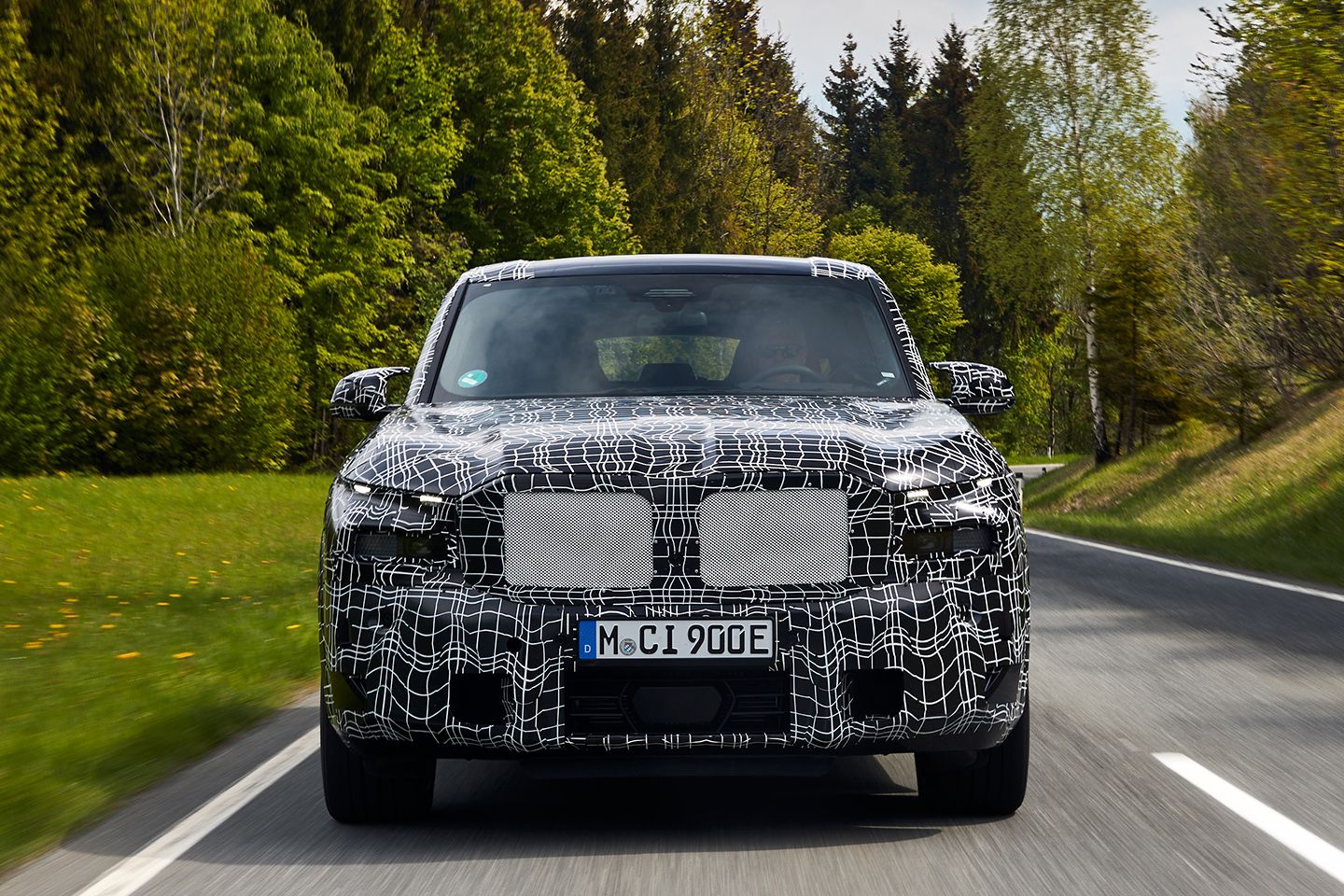 Are those the adjectives that best describe the BMW XM? For me, possibly. Fair play, it's not the finished article, but at the moment it is all a bit synthetic and bombastic. Just like the Lamborghini and Porsche engineers, I admire what the team at M has achieved with the marketing brief it was given. Those individuals have got the laws of physics to submit by bashing them with a big, expensive hammer. And I guess, if you're rich enough to think that you can have it all – luxury, speed, handling and power – then that's a good thing.
Except you can't have it all. There's always a trade-off. This car, as impressive as it is, isn't the last word in luxury or comfort, and it's no sports car, either. To me, the new Aston Martin DBX707 still gets closest to blending all those elements. And I think it has the right badge for its intended markets, too, which, let's face it, isn't primarily Europe. Like that model, this XM is for the richest residents on farther-flung points on the globe. Is the BMW propeller, even backed up by the letter M, going to tempt those people away from an Aston or Lamborghini badge? I'm not sure. After all, BMW bought Rolls-Royce for a reason.
SPECIFICATION | 2023 BMW XM
Engine: 4.4-litre, V8 twin-turbo, plug-in hybrideight-speed auto, four-wheel drive Transmission: 650 (combined) Power (hp): 590 (combined) Torque (lb ft): TBC 0-62mph: TBC Top speed: TBC Weight: TBC MPG: TBC CO2: TBC Price:
[ad_2]

Source link