MT Interview Steven Eagell
[ad_1]

A lot is said about the shortage of new cars in the supply chain. Looking around at the Steven Eagell Toyota dealership in Merton Drive, Milton Keynes, you would never know. It's packed to the gunnels, a constant juggling act is going on to manage the flow of cars on the forecourt.
Steven Eagell, CEO of the eponymous group is no stranger to Motor Trader as he won the MT Outstanding Achievement Award in 2019 for the rapid expansion of the group. Established in Milton Keynes in 2002, it now has 22 Toyota and eight Lexus dealerships. It did well in the pandemic, turning in pre-tax profits up 53.2% to £25.8m in 2021 on turnover up 37% to £703m, giving it a return on sales of 3.7%.
Eagell heads up the biggest Toyota dealer group and he is also chairman of the Toyota National Dealer Council, which puts the case for dealers. Toyota and Lexus have good relationships with dealers generally, regularly topping the National Franchised Dealer Attitude Survey.
"We work very closely with them. Obviously, we don't always agree on everything, but we have good honest open frank discussions. And ultimately, we do what's best for the customer. That's the most important thing between us. We're looking to do what's best for the customers, best for the brand and best for the business."
The rapid growth with the brands has given it a contiguous territory ranging from Kings Lynn in the north to Watford as its most southern point to Wolverhampton in the west and Ipswich in the East. Six years ago, it took on Lexus for the first time and now has eight Lexus businesses. Is there much difference between retailing the two brands? Did he have to up the game when he jumped from mainstream Toyota to premium Lexus?
"In September 2016, we acquired our first Lexus business in Hatfield and we've grown with the brand considerably since then. We use the same philosophy to grow Lexus as we did with Toyota. A lot of people said to us at the time, you know, Lexus is very different. But from my point of view, it is all about the people and delivering excellent customer service. They are different brands but there was no major change in philosophy."
Eagell wants to achieve further growth with the two brands but accepts there is a limit. And he does not want growth for its own sake.
"Any new business needs to fit in geographically and strategically. We are obviously not blind to the fact that there will be a limit. We need to be able to add value to the group," he said.
Eagell has not ruled out taking on other franchises but they would have to be of scale and they could not be allowed to dilute the work done for the Toyota and Lexus brands. Paying attention to detail and doing things consistently has meant management being promoted from within.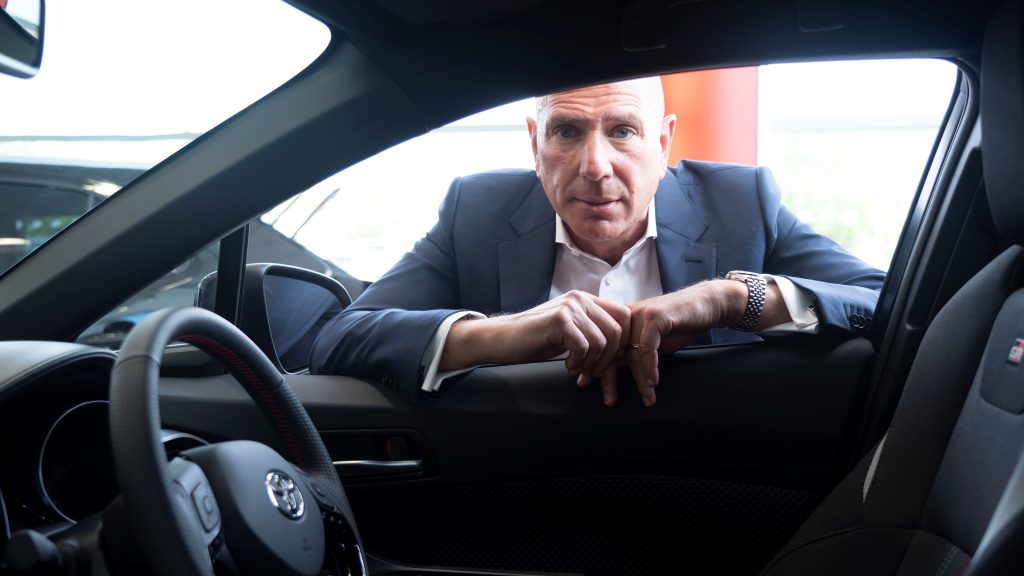 "I think 99% of our senior managers in the company have been promoted internally," he said. According to Eagell employees can always be trained in technical issues but attitude is all. "You can't really teach somebody to have the right attitude," he added.
The group is doing some work on diversity. In 2021 Steven Eagell himself became a member of the Automotive 30% Club, the voluntary network of MDs and CEOs from UK based automotive manufacturing, retailing and supplier companies, with the purpose of achieving a better gender balance within the automotive industry. It aims to fill at least 30% of key leadership positions in the member organisations with women by 2030. His membership complemented that of Toyota GB President Agustin Martin, said Automotive 30% Club CEO Julia Muir. And it is not just management but equality that spreads throughout the business.
"We don't want to take on women just for the sake of it, to hit a number. We want to get there naturally. We need to attract more female technicians, a whole new breed of technicians that can cope with the rapid pace of change in technology." he said.
According to Eagell, the biggest challenge he faces is the risk of complacency with the brands.
"I think, without doubt our biggest challenge is complacency. That is what I tell our guys internally. We've enjoyed a lot of success over the years. It's not been easy. There have been tough times as well. It's very easy to sit back and say 'we've done a good job here,' we're profitable, our customer satisfaction is good. But you can fall back. We've got to consistently look what we are doing and remind ourselves that we have to be on the pitch for 90 minutes and not 89 minutes. We are looking at ways to improve our business the whole time," he said.
The group has bounced back from successive lockdowns and taken advantage of pent-up demand.
Last year saw 16,356 new car sales, up on the 13,568 sold in 2020. The used business has also grown to 15,850 from 11,894 last time and parts sales have grown to £28.9m from £22.3m in 2020. The group increased sales staff numbers and also its team of sales controllers in telesales.
The company has about 45,000 life PCP contracts and a key task is to flip these customers into new contracts at the appropriate time. Sales staff concentrate on, well, sales and are there to build relationships with customers. That is what they do best, their speciality. The company has also changed commission structure for staff. In fact, Toyota sales are running at 33,915 in the year to April, 7% higher then the same period in 2021. Eagell acknowledges the stock shortages but says margins are higher and the market is not been forced.
"We have shortages, but we've taken a positive attitude on it. It's actually worked out well for us because new car margins have increased significantly. I think that's helped everybody," he said.
On the used car front the group like almost everybody has benefited from rising values over the past year, although these have levelled off now. The key was to retain customers and generate part exchanges though excellent customer retention rates.
Eagell frequently returns to the increasing need for dealers to recruit specialists, whether that is in digital, marketing, sales or call centre. All of these people know more about their specialisty than he does and that is the way it should be.
"I think you need to have the confidence to recruit somebody that can do a job and better than you and can teach you things. Because if you haven't got the confidence to do that, you're never going to be able to drive the business forward. We've built a really good senior management team of excellent and professional skilled people. We're not all the same, we have different skill sets."
The group has been investing in systems. In March it announced the launch of its new, upgraded website, adding a new front-end search and vehicle detail page solution, with on-page checkout functionality to drive ecommerce sales.
The group has also been aiming to carbon footprint. In 2020 it overhauled recycling and waste management across its dealerships, appointing Enva as its solus supplier. Enva has worked with the dealer group for 10 years, providing sustainable management of tyres, oil and filters, aerosols, contaminated plastics, lead batteries, brake fluid, fuels and degreasing equipment with 99% of the waste collected being recycled.
Aftersales is another key area of growth. Eagell is a fan of the Relax warranty introduced by Toyota in 2021. This gives Toyota and Lexus owners 12 months/10,000 miles' cover for their vehicle each time they have it serviced at an official Toyota or Lexus centre.
The warranty is automatically applied and there is no extra cost to the customer. This "service-activated" warranty can continue until the vehicle reaches 10 years or has covered 100,000 miles. All Toyota and Lexus models qualify as long the age and mileage criteria are met, including passenger cars and light commercial vans and pick-ups. Toyota said the warranty should help improve residuals of warranted cars and provide a 'compelling' business case for its dealers. Basically, Toyota and Lexus are hoping that the two brands will retain more servicing work than they do at present.
But is it working? The group has made a £2m investment in the programme and is optimistic about its long term success. Eagell said that customer retention for the four to 10 year old car parc had gone up from 39% prior to Relax to just short of 45% for the rolling year to April.
I ask Eagell about disruptors and the impact they are having on the market. His view broadly is that dealers have an advantage over online disruptors in that they have physical premises and can deal with people face to face.
"It's a big market and there's always going to be disrupters. I think that keeps us on our toes. we need to make our experience, even more exceptional. It's never been more important to up our game in terms of the customer experience that we can offer.
"My view is people still value face to face relationships and actually having somebody that they can speak to," he said.
As a group with 22 Toyota dealerships and eight Lexus, Eagell has a good overview of how dealerships rate against one another, depending on when they were acquired and assimilated and geographical variances. He also focuses on dealer reviews by Google. "Google is a big focus for us," he said.
As you would expect the group performs strongly when it comes to internal awards. In February it scooped nine at the 2021 Toyota BRIT and Lexus Centre of Excellence Awards. The annual Toyota Best Retailer in Town (BRIT) awards recognise the "best of the best" in the Toyota network, across a number of categories – the most prestigious of these being Best Toyota Group, Best CDA and Toyota Retailer of the Year.
Steven Eagell Toyota came out on top in all three categories, with the Aylesbury, Bedford, Luton & Milton Keynes dealerships taking "Best CDA". The Milton Keynes dealership was announced as "Toyota Retailer of the Year", retaining their title from last year, with the Tamworth dealership coming runner-up.
And Steven Eagell's Lexus franchise at the Centre of Excellence Awards, winning the Best Group award, with Lexus Cambridge taking Centre of the Year and Lexus Birmingham the Value Chain award.
One final question on a subject that is preoccupying many dealers at the moment: the agency model. Has Toyota any plans on agency for its network?
"Agency is a word that's used a lot what actually is agency? Nobody's actually defined what agency actually is. With Toyota, we've always had a bit of a hybrid model. We've always had lean stocking. We have a showroom stock, and we order from that showroom stock. So, we've never had the burden of wholesaling cars. And we've got fixed margins on some models.
"They've got no plans for an agency model. They've made that clear to us. I think it will be interesting to see what does happen longer term with agency."


[ad_2]

Source link