GAC bets on graphene tech for batteries | Automotive Industry Comment
GAC claims breakthrough graphene technology brings benefits such as a much faster battery recharge time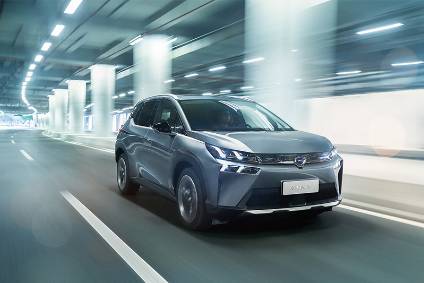 GAC says the upcoming electric SUV Aion V will be equipped with the new graphene tech-based battery
Chinese vehicle manufacturer GAC has announced a breakthrough in battery technology that could give its vehicles an edge in the increasingly competitive electric vehicle (EV) market. Currently, the main limiting technology for electric vehicles is the battery pack – it's the most expensive single component in the vehicle and is the main factor in determining how much range an EV achieves and, critically, how quickly it can recharge.
GAC has not shared technical details of its new battery's construction but has stated that the critical breakthrough involves the use of three-dimensional graphene. Graphene is a novel material made of a single-atom-thick sheet of carbon and displays incredible strength and conductivity properties. GAC's technology involves using atom-thick sheets of graphene to form a three-dimensional structure in a similar manner to modern aerogels. Without sharing specific details, GAC claims that its new production method for creating 3D graphene is ten times cheaper than current conventional methods.
The new battery cell is expected to be deployed in GAC's upcoming Aion V electric SUV, which is currently undergoing winter testing and is expected to enter mass production in September 2021. According to Chinese reports, the Aion V's lithium-ion battery pack is based on nickel, manganese, cobalt (NMC) chemistry and will be constructed by Chinese cell supplier CATL – the world's second-largest cell supplier behind Korea's LG Chem.
The use of graphene into the cell's chemistry is said to make a significant difference in the rate at which the battery can be charged.
Graphene is thought to play a role in the construction of the battery cell's electrodes – specifically, the negatively-charged cathode – although GAC has not confirmed this. The use of graphene into the cell's chemistry is said to make a significant difference in the rate at which the battery can be charged. GAC is claiming the Aion V can be charged to 80% from flat in just eight minutes using a 600A high-power charger. GAC has yet to announce the Aion V's expected range and it is not known whether the presence of graphene in the battery will significantly change the range versus a non-graphene option, but the dramatic drop in charging time may be enough to sway customers. Eight minutes is not much longer than the amount of time needed to refuel a traditional combustion-powered vehicle – a metric EVs have struggled to truly challenge.
Charge and discharge rates in batteries can be expressed as a C-rate figure, with a higher number indicating that the battery can accept or deliver a greater amount of charge for its given capacity. Higher C rates are associated with reduced battery lifespans because the higher temperatures generated in the process degrade the materials in the battery cell. Graphene's remarkable material properties are probably responsible for GAC's claimed charging rate of 6C, thanks to its ability to withstand the higher rate of charging without degrading. In other words, GAC's battery is able to accept six times its total capacity in an hour – considerably higher than any current EV rival.
GAC claims the graphene cell not only significantly reduces recharge times but also increases service life, resisting the capacity fade issues that have emerged in older lithium-ion battery packs. This has environmental benefits because it means the graphene battery pack can remain in operation for longer than traditional battery packs and will not require replacement as quickly. GAC has yet to put a figure on the expected service life of the graphene battery pack.
Breakthroughs like this will be critical as passenger car markets begin to shift from combustion-powered vehicles to electric vehicles. Having a low recharge time might help negate some of the consumer concerns over range anxiety – even if the EV's range is less than that of a combustion-powered car, the ability to rapidly recharge makes this less of a problem. In addition, the promise of a long service life may help convince EV sceptics that are concerned over the long-term usage prospects with fears that their batteries will lose all capacity after ten-or-so years of ownership.
This article first appeared on GlobalData's research platform, the Automotive Intelligence Center
See also: GAC claims 'graphene-based' fast-charging battery breakthrough