2022 Genesis GV60 | PH Review
[ad_1]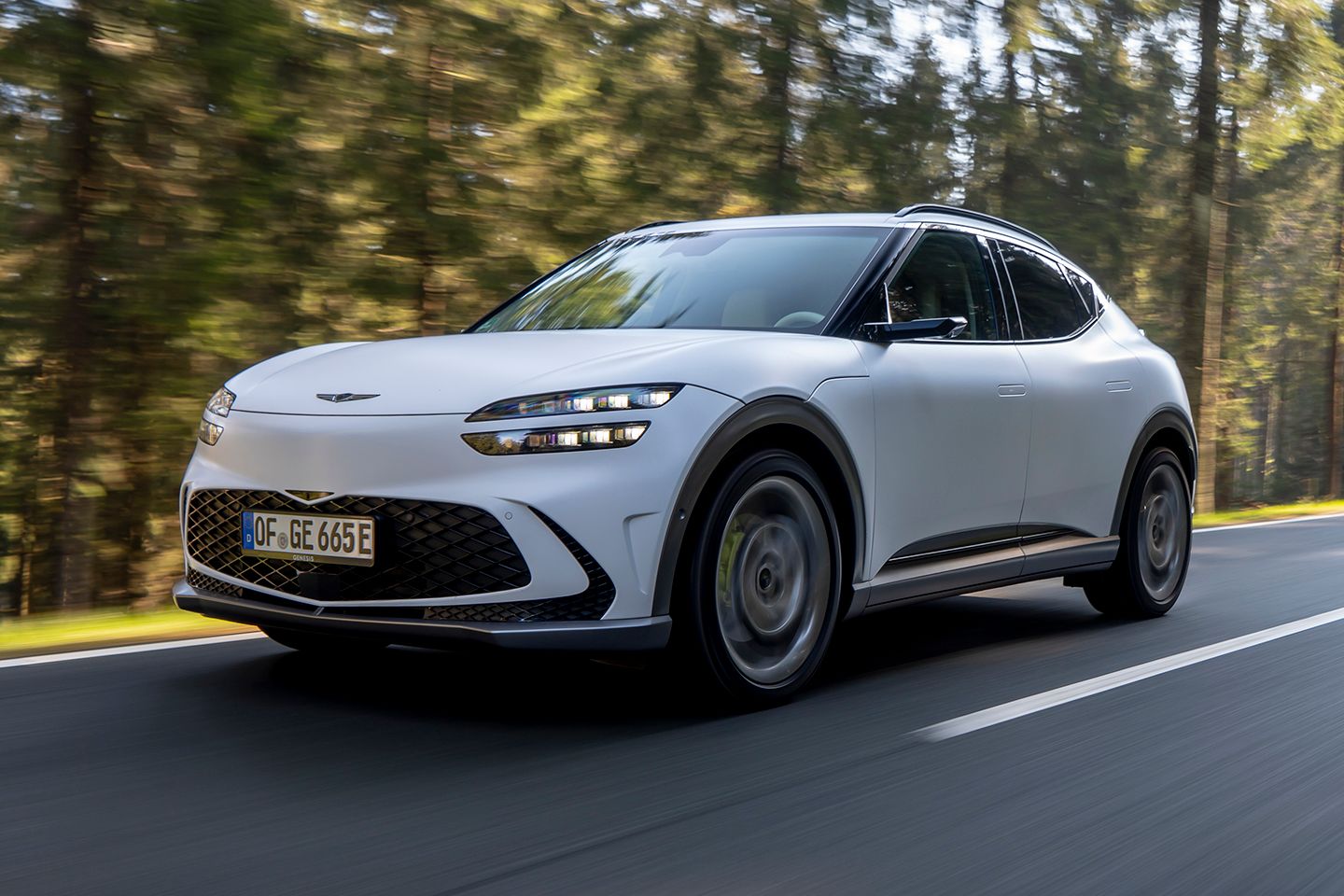 Should Genesis have launched its European onslaught with the all-electric GV60, rather than a suite of traditional saloons and SUVs? It certainly feels like Hyundai's fancier relation might have made a bigger splash with this, and not just because its fastback-crossover form is oddly arresting in person, all short overhangs and pent-up intention.
The man behind its chassis tuning – Tyrone Johnson, who fettled the Mk3 Ford Focus RS – certainly has his heart set on electric. And for someone with a strong, petrol-powered CV, he's really rather bullish on the matter. 
"I'm always surprised at how many engineers are nostalgic about internal combustion engine powertrains," he tells me. "I don't understand that. Why are people reminiscing about ICE cars? Everything is worse on them. EVs are a huge opportunity for doing so much more – not just with the powertrain itself, but how the various ESC systems work together. Everything you do on ICE is a band-aid; a piece of software to fix a fundamental problem. The industry has done a superb job of doing that, but EVs start off without any of those problems."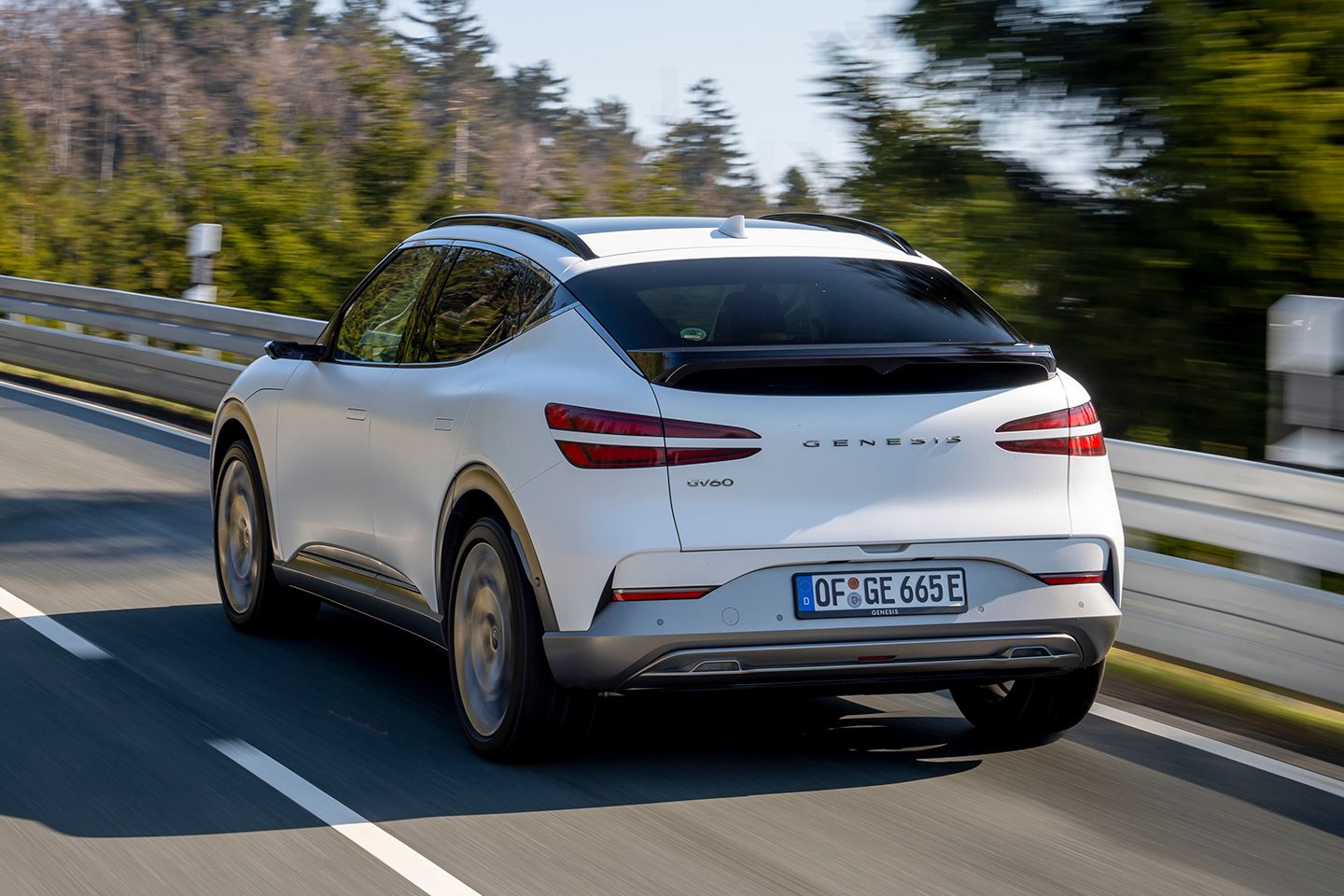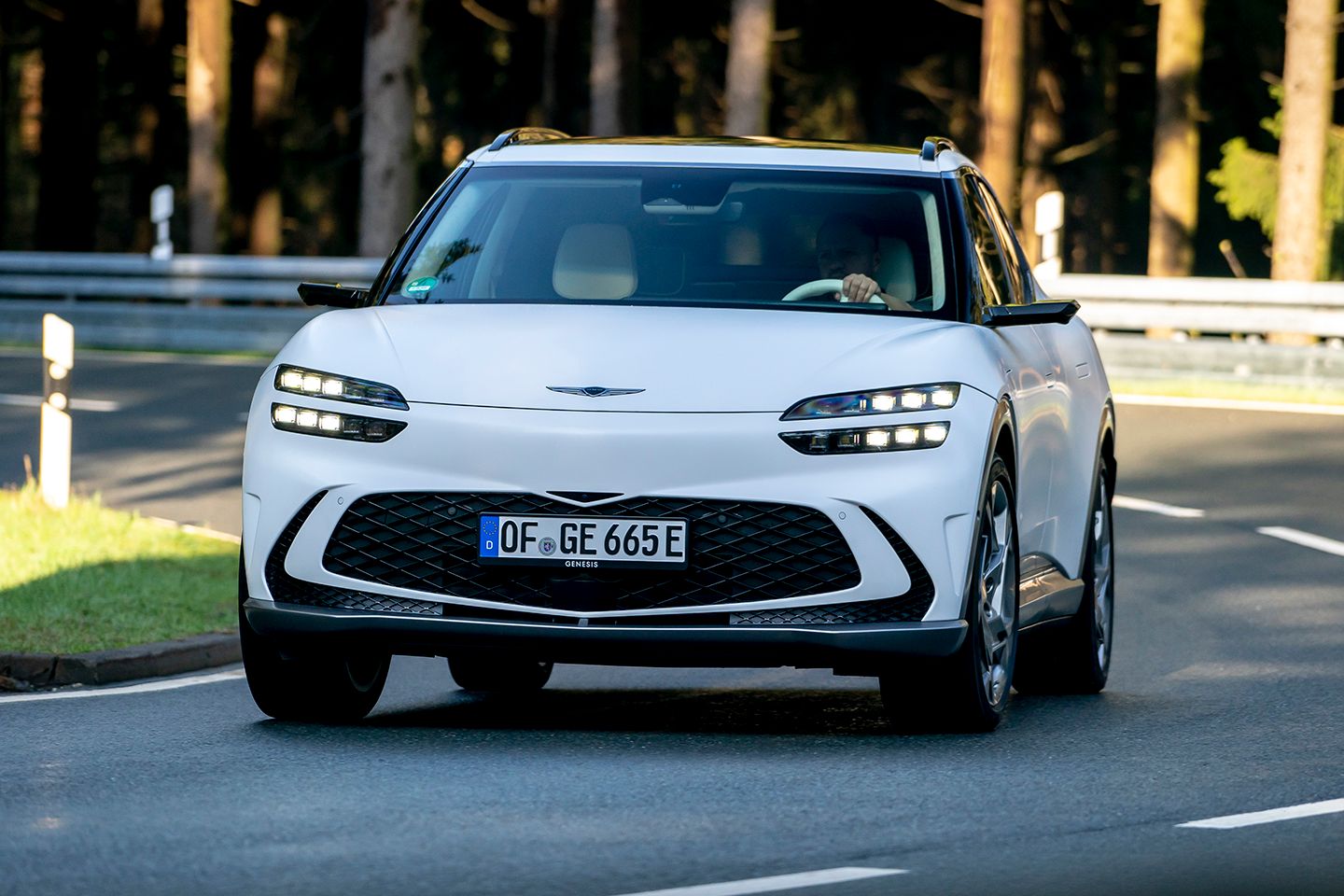 As if to prove the point, his first plug-in Genesis comes with a fairly scintillating amount of power and Drift Mode. Yep, rather like the one he brought to market – and kickstarted a controversial trend with – on the Focus RS. Johnson works across Hyundai, Kia and Genesis and needs to find ways to make each product stand out from the other; given how impressive the Ioniq 5 and EV6 already are, their GV60 cousin needed something of note. Its oddly dynamic spec sheet is it.
Mind you, not all GV60s are hardwired for hooliganism. The range kicks off at £47,005 for a 229hp rear-drive model with a 321-mile range, the furthest any current GV60 will go. The Sport starts at £53,605 and boasts a 318hp total from twin motors (for AWD) and a 292-mile range. Then there's £65,405 Sport Plus, replete with Drift Mode and punchier twin motors for a faintly staggering 490hp peak and only slightly dented 289-mile range. Crucially, all use the same 77.4kWh battery that's hooked up to ultra-fast 800v charging architecture. The claim is a 10-80 per cent boost in as little as 18 minutes, but in reality you'll probably stop for half an hour and have an indulgent caffeine break.
I'll get the entry-level car out of the way in a paragraph. If you're sold on the looks and the Genesis aftercare package – basically never having to be face-to-face with a dealer at any point of ownership – then it's the cheapest, rangiest and therefore smartest buy. It's just not memorable to drive.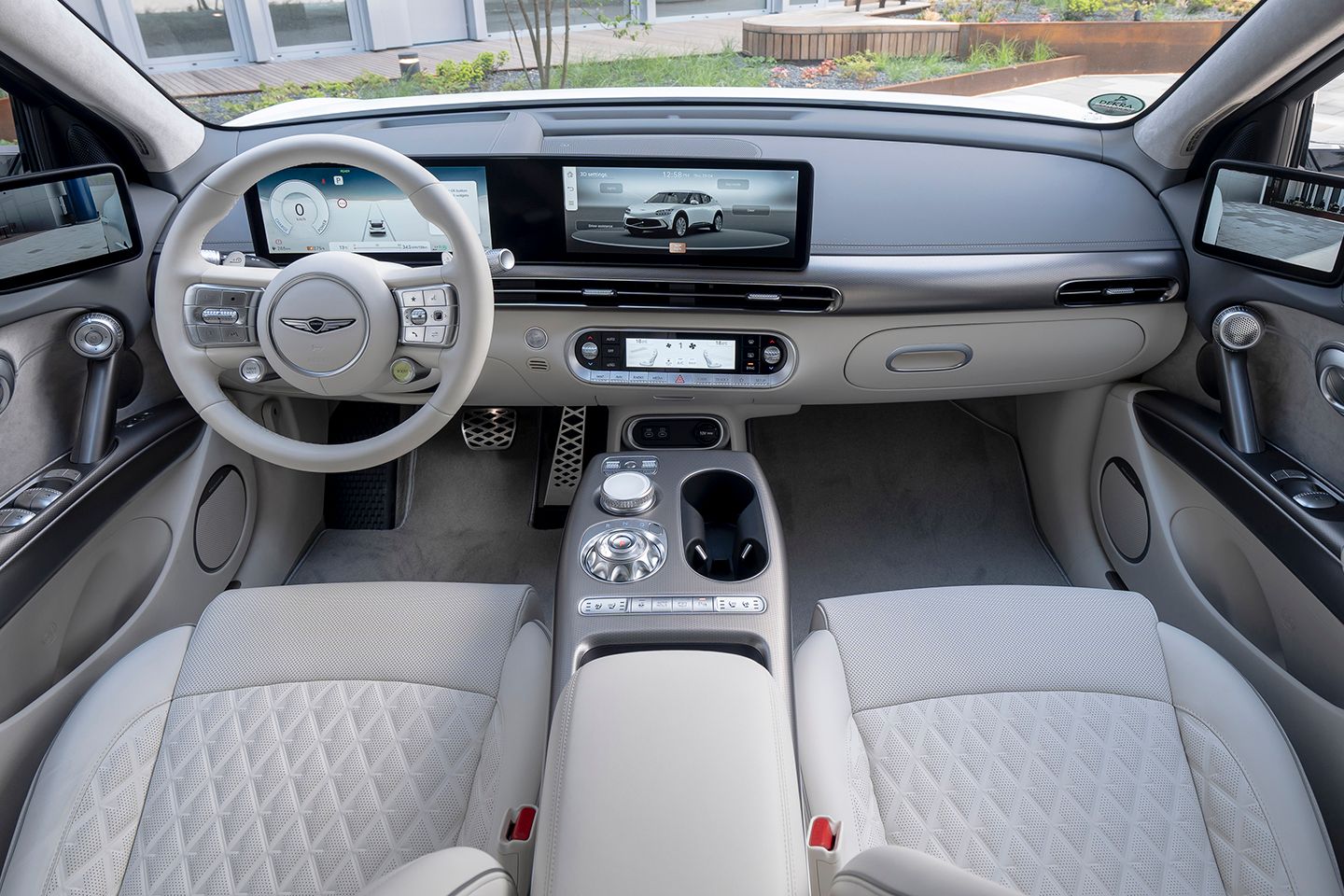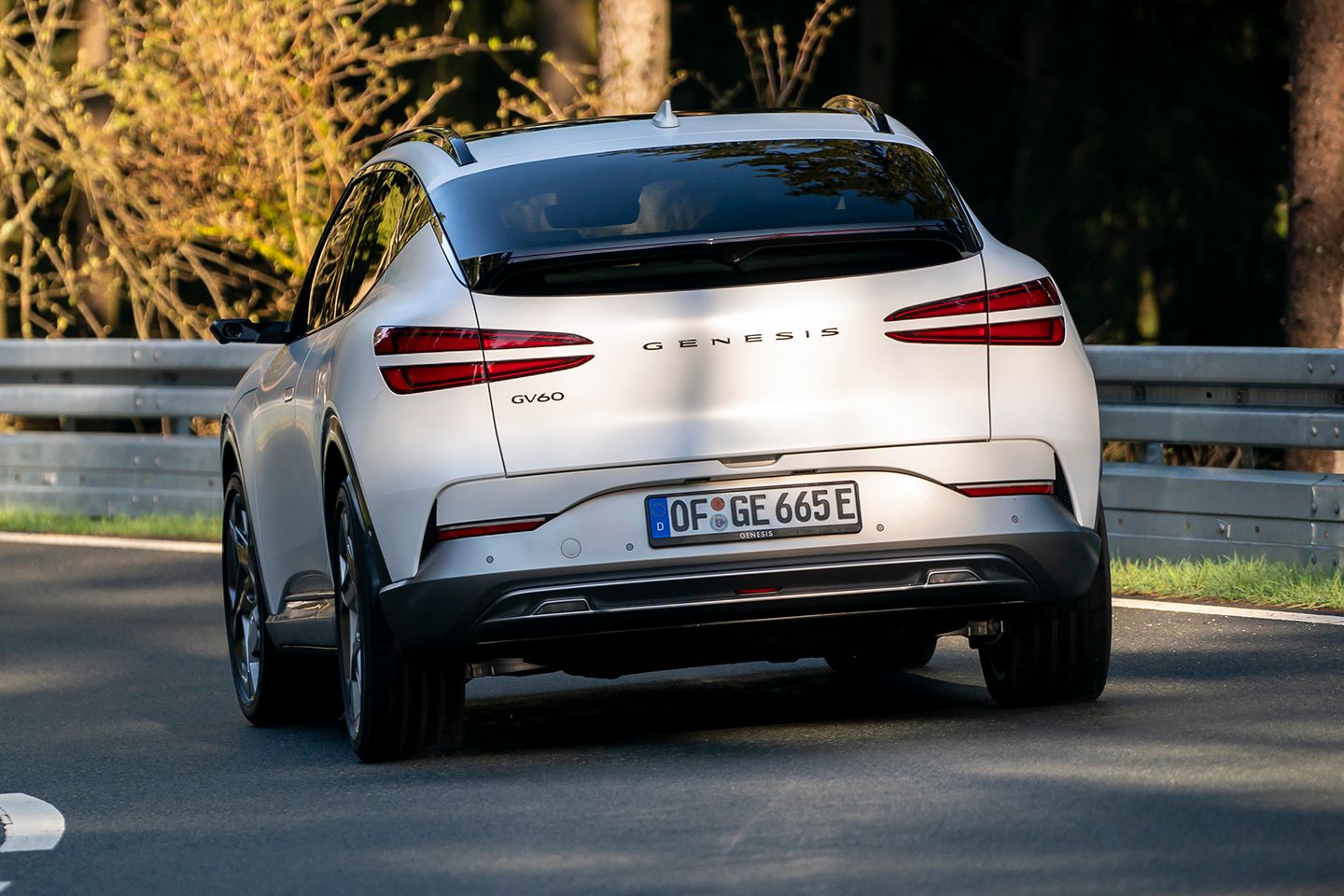 Better to leapfrog straight into the headline Sport Plus. Genesis had the good heart to host its media drive in Germany, and while occupying the outside lane of derestricted autobahn does little for EV range, it's an irresistible party trick. I nudge the GV60's uncommonly high 146mph vmax with relative ease and with no real tail-off in its accelerative force leading up to it. Not great for battery life, of course, but crucial for helping convince me there's something of note going on beneath the skin. I feel childish enjoying the moment so much but the genuine surprise of such astonishing performance has me grinning like an idiot, all the more so because the experience is largely silent, much of the road noise outside swallowed up by an active road noise cancellation function built into the (optional) B&O stereo.
It doesn't especially put a foot wrong away from straight roads, either. It just allies light, relatively feel-less steering to an abundance of grip – those massive 21-inch wheels come wrapped in impressive Michelin Pilot Sport EV tyres – for a slightly soulless experience. You can loosen the ESC, but even activating Drift Mode doesn't fundamentally change the car's character on dry tarmac. I suspect it's a 'use it once in an empty car park' gimmick, and you'll not go through its overwrought (but kinda fun) initialisation process more than a handful of times. More satisfying day-to-day are the way the seat bolsters grapple you tighter when you select Sport on the drive mode toggle, or the little haptic buzz when you click between R, N and D on the gear selector, which sits the other side of a quirky – but not unappealing – crystal ball. Yeah, EVs are about finding joy in different places…
Speaking of which, the switchgear feels a useful step up from Genesis' Korean cousins. You get a similar touchscreen layout (and the same annoying beeps and bongs) as a Hyundai, but all the materials you regularly touch are a tangible cut above an Ioniq. And this feels a crossover designed around those who sit in the front. In a case of classic EV packaging issues, the batteries have elevated the floor for rear passengers and adults will feel a bit hemmed in, unable to neatly slot their feet under the front seats. But Genesis clearly knows that anyone spending big money on one of these probably isn't buying it as sensible family transport.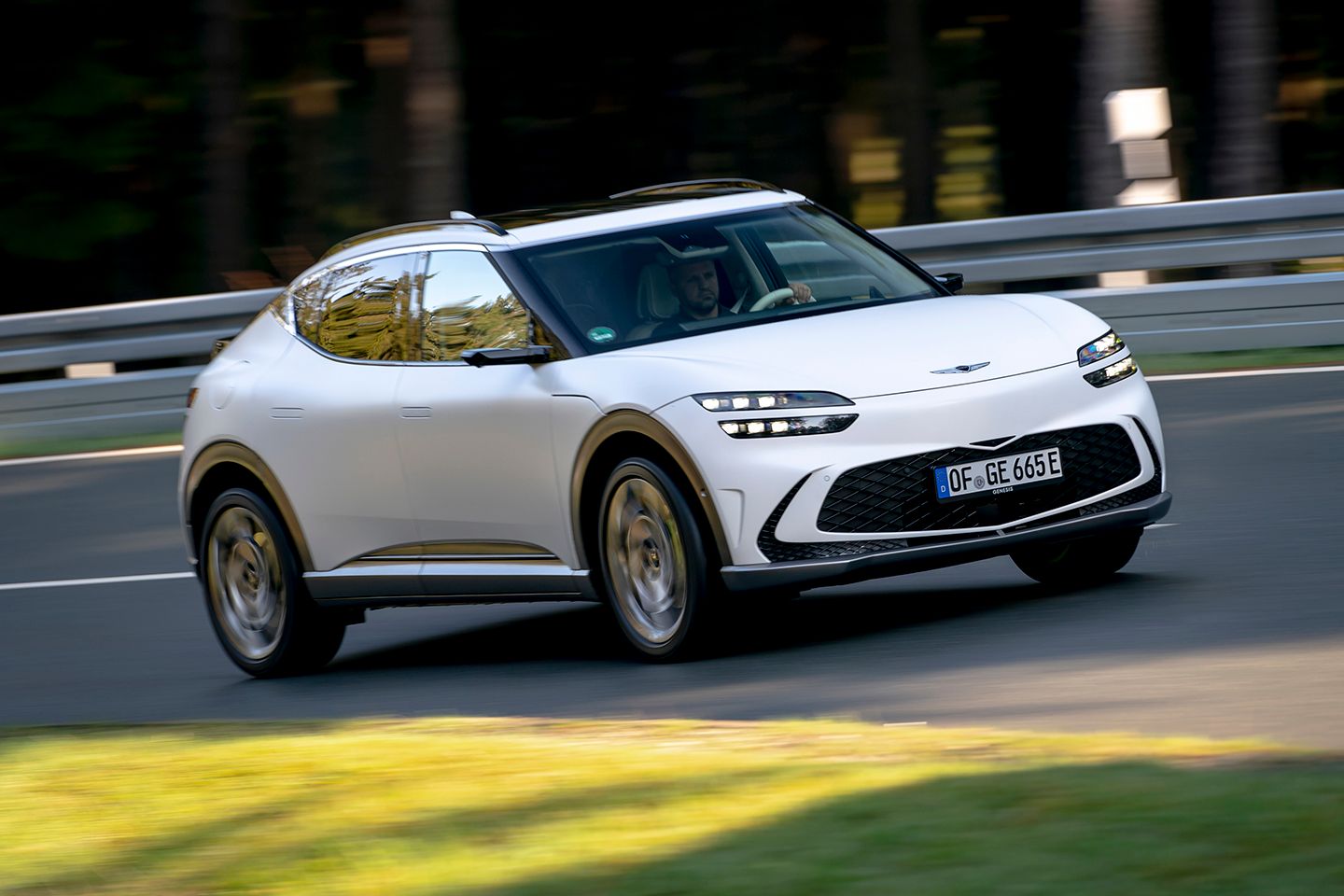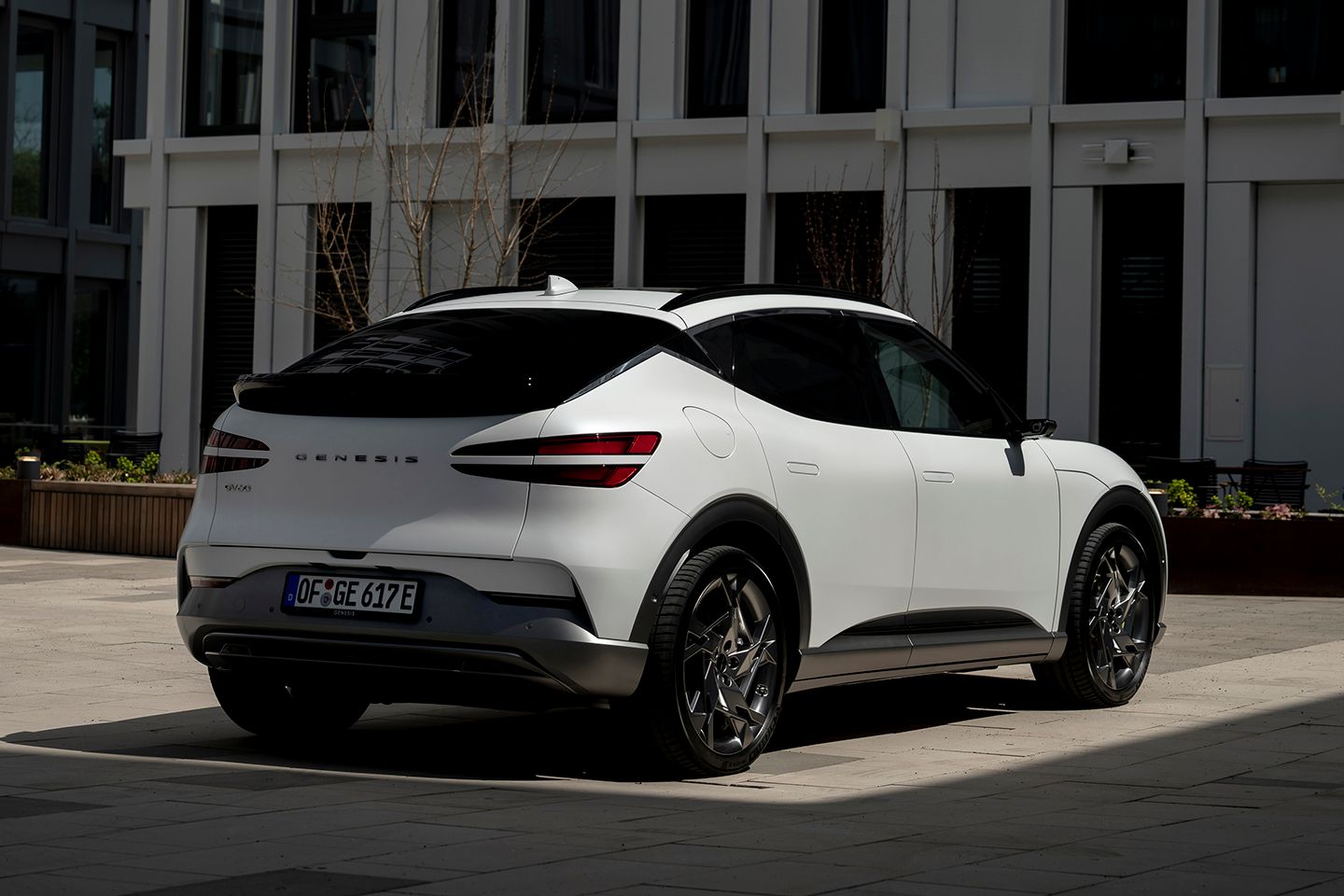 The price is astonishing, yes, not least because the car we drove – with the fancy B&O stereo, cameras-for-mirrors and a few option packs – approached £77k. Remember when that was junior supercar money? I feel like my internal calculator is still stuck there. When a Taycan starts at £74k, a pricier top-rung GV60 is a tough sell to enthusiasts hoping to leap across to electric. Surely you'd go Porsche if you could afford to? The Sport Plus does sit on par with a Mustang Mach-E GT in terms of price, power and general swagger, though.
Given it directly rivals a product of Johnson's former employer, the GV60's Drift Mode feels even more provocative. Has his team fitted a fairly incongruous piece of tech to a posh plug-in SUV to shock the establishment? "Yes," Johnson unequivocally replies. "Genesis want to do it differently. There isn't 50 years of history behind us. Audi couldn't wake up tomorrow and say 'we going to do everything differently'. But Genesis can."
Put in those terms – from the mouth of its own senior engineering staff – maybe the GV60 really is what Genesis should have launched here first, even if it ultimately just drives as tidily as any other EV crossover, albeit more quickly. And with a similar shortage of soul, for those of us still hung up on cars being imbued with the stuff (sorry Tyrone). Nevertheless, there are glimmers of fun and frivolity built into its spec sheet, and its driving experience. The road to genuinely driver-appeasing EVs still feels long, but Genesis has the right attitude to quicken its pace along it.
Specification | Genesis GV60 AWD Sport Plus
Engine: Dual 160kW motors, 77.4kWh battery
Transmission: Single-speed, all-wheel drive
Power (hp): 490
Torque (lb ft): 516
0-62mph: 4.0sec
Top speed: 146mph
Weight: 2095kg
Range: 289 miles
CO2: 0g/km
Price: £65,405 basic/£76,835 as tested
[ad_2]

Source link